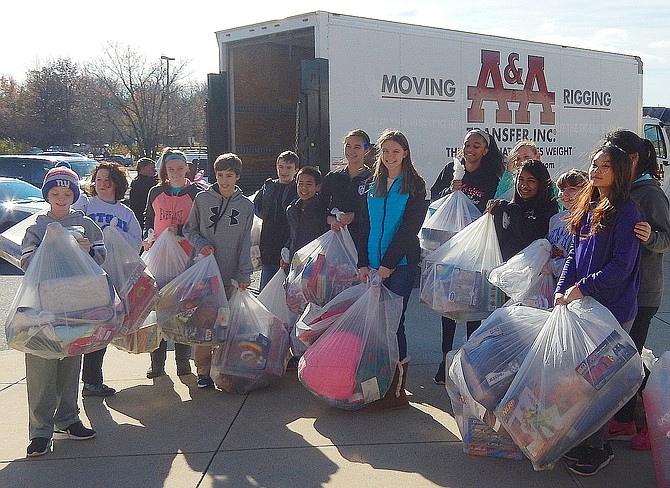 Centreville-based nonprofit Our Neighbor's Child is providing new toys and clothes for the upcoming holiday to 610 local families with a total of 1,646 children. But with such a big undertaking, it needs as much help as possible from the community. Below are several ways to lend a hand:
Saturday, Dec. 8, from (9 a.m.-11 a.m.): General gifts are being collected outside door 1 at Rocky Run Middle School.
(Ourisman Chantilly Toyota, 4135 Auto Park Circle in Chantilly, is also an ONC gift drop-off location from now through Dec. 13).
Sunday, Dec. 9: Set-Up Day - from noon-2 p.m.;

Thursday, Dec. 14, Packaging Day - in shifts starting at 9 a.m. and lasting all day); and

Sunday, Dec. 16, Delivery Day - from 1-4 p.m. More details are available on the ONC website (www.ourneighborschild.org).
Families wishing to support a local child's wish can find them on ONC ornaments on giving trees inside the Chantilly and Fair Lakes Wal-Mart stores.

ONC provides gifts for children enrolled in school, and the most requested gift for teens is clothes. But donations of gift cards will enable teens to try on and choose things for themselves. To sponsor a $25 gift card for a teen, click "Donate" on the ONC website for information about PayPal, Venmo and the mailing address for checks.
Besides gifts, each family also receives two dozen, homemade cookies; and this year, some 15,000 cookies will be needed. They should be dropped off at the Virginia Run Community Center (at Route 29 and Pleasant Valley Road in Centreville) on Thursday, Dec. 13, before 4 p.m.