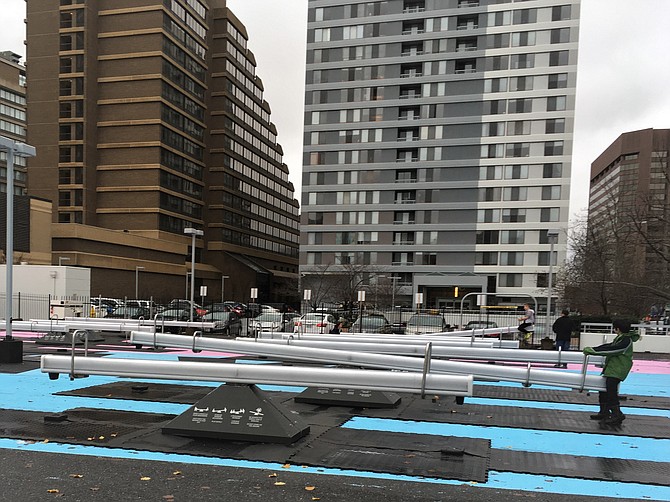 Holiday displays with their twinkling lights and elaborate designs are part of the joyful holiday season. This year, Arlington lights up dark winter nights with a different kind of exhibit: Impulse, a playful interactive installation at The Grounds of Crystal City.
This presentation has 15 glowing seesaws that each produce its own set of tones. Unlike other displays, viewers are invited to be part of the exhibit and to create their own music and lights. The LED lights attached to the aluminum seesaws emit varying degrees of brightness with the change of speed and rhythm of the up and down motions. This makes each experience unique for its audience, allowing them to view the constantly changing installation and to also create their own music and display when they go on the seesaws. Without the lights and sounds, the seesaws in various lengths, accommodating as much as four people, remains a fun way to play for children and adults alike.
Impulse was first presented in Montreal at the Quartier des Spectacles in 2015. This multi-awarded work has delighted audiences in cities such as Aberdeen, Boston, Brussels, Chicago, London, Lugano, and Scottsdale. The architect and co-designer, Toronto's Lateral Office described its goal for this unusual installation on its website, "the Impulse project explores how architecture can visualize sound." This vision was realized by the rest of the team that designed this innovative project; these are the Montreal firm CS Design (Lighting Design and Co-Designer), EGP Group (Engineering), Mitchell Akiyama (sound design), Generique Design (Mechanical design and fabrication), and Robocut Studio (Electronic design and fabrication).
The Grounds is a recently created art and public space that used to be a parking lot. Located between Pentagon City and Crystal City, The Grounds is sponsored by the Crystal City Business Improvement District and LCOR with the hope that this new space will engage the many residents and workers in the neighborhood and provide them with enjoyment. Aside from Impulse, the DC-based No King's Collective created "Let's Play," a 10,000 square ground mural occupying the lot that reflects the goal of the space to be a fun and creative environment for the community, especially with the arrival of the Amazon Headquarters nearby.
Details
What: Impulse
Where: The Grounds (12th St South and S. Eads St. diagonally across Whole Foods)
When: Sunday to Thursday 11 a.m.-8 p.m., Friday and Saturdays 11 a.m. – 10 p.m.
Cost: Free