Finding One's Fashion Sense
According to designer Christian Schaffer, expect lighter colors and bold patterns to be this year's summer style. For more information about all things fashion, including upcoming events, visit the homepage of local fashion guru Kate Michael at: kstreetmagazine.com.
Arlington — Bikinis, suits, and the finest local apparel greeted visitors at the fifth installment of Crystal Couture, held Feb. 5-9. The fashion event drew large crowds as designers shared the spotlight with their creative takes on summer style.
Local models strutted across the 400-foot runway, and sported a variety of designs. Set against the backdrop of a bare-bones 23,000 sq ft. office space at 251 18th St in Crystal City, the location of Crystal Couture 2013 accommodated more than 80 local boutiques, making this year's event the biggest so far.
"There's more people, more space, and more customers."

Kourush Chitsaz, owner, Passport Clothing
Photo Gallery
Fifth Crystal Couture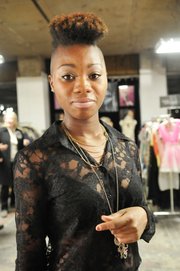 Click Photo for Flash
"This is one of our signature events, it's a chance to showcase Crystal City in a different light," said Rob Mandle, chief operating officer with the Crystal City BID. "The best thing is how different and unexpected Crystal Couture is."
The spaciousness of the newest location was not lost on designer Christian Schaffer, who creates a stylized look through tailored fits. "I like the use of space. There's a raw office look," said Schaffer. "I've never seen a 400-foot runway, it's a long walk for the models."
Crystal Couture brought together designers of all shapes and sizes, from the Brazilian bikinis of D'Milikah to more traditional designs. While fashion can be competitive at times, for Kourush Chitsaz, who has attended all five of the Crystal Couture events, this year smacked of cordiality and friendship.
"There's more people, more space, and more customers," said Chitsaz, owner of Passport Clothing in D.C. "This is a good bunch of people, I like working with them. All the designers are mostly friends, which isn't too bad considering fashion is a very competitive area."