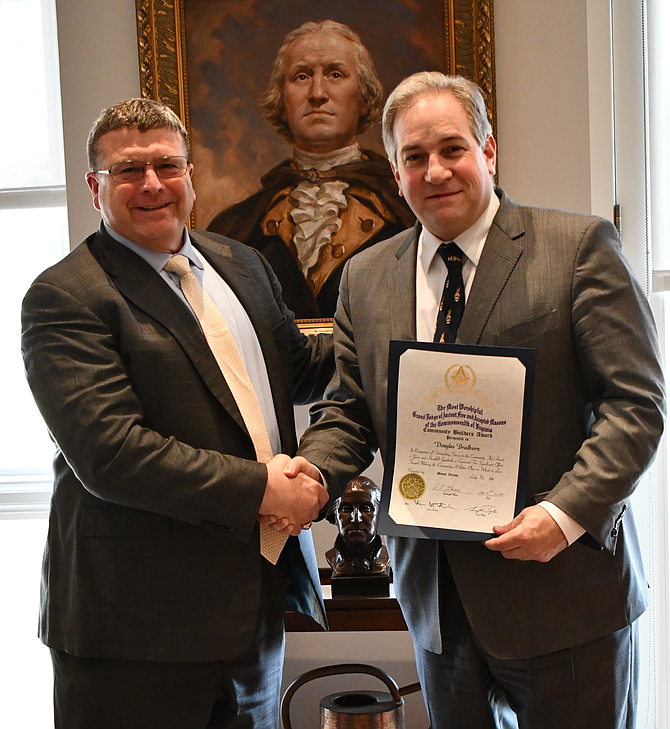 The Masonic Community Builders Award recognizes non-Masons who are positive and notable contributors to the welfare of their community. On Dec. 5, Al Glaeser, Worshipful Master of Mount Vernon Masonic Lodge No. 219, awarded Dr. Douglas Bradburn, president and CEO of Mount Vernon, with the Masonic Community Builders Award to recognize his contributions to the Mount Vernon community over the past five years.
Bradburn, an American history scholar, became the founding director of Mount Vernon's Fred W. Smith National Library for the study of George Washington in 2013. The library has served the nation in its outreach and education to all who seek information and history surrounding the country's first president.
On Jan. 1, 2018, Bradburn assumed his current role as president and CEO of George Washington's Mount Vernon, one of the most notable historic landmarks of the nation. President George Washington became a Freemason at the age of 20, and was a faithful member of the fraternity for over 47 years until his death in 1799. In retirement President Washington became charter Worshipful Master of the newly chartered Alexandria Washington Lodge No. 22. In death President Washington was buried with Masonic honors.
The award certificate was signed by the head of Virginia Freemasons, Most Worshipful Gary Wallace Taylor, and the head of Mount Vernon Masonic Lodge, Worshipful Al Glaeser. Mount Vernon Masonic Lodge No. 219 is located on Fort Hunt Road and is the only Masonic Lodge on George Washington's Mount Vernon estate.