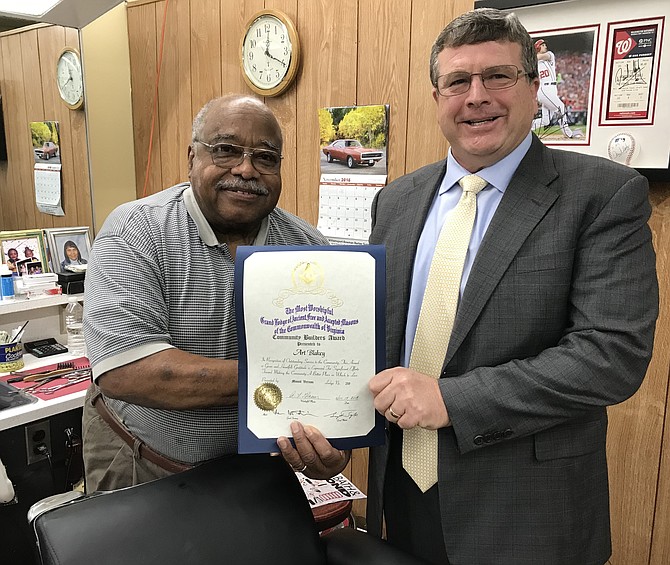 On Nov. 19, Al Glaeser, Worshipful Master of Mount Vernon Masonic Lodge No. 219, awarded Art Blakey of the Hollin Hall Barbershop its Community Builders Award for his over 50 years of service to the families of the Mount Vernon area.
The award certificate was signed by the head of Virginia Freemasons, Most Worshipful Gary Wallace Taylor. Blakey has cut the hair and dispensed wisdom and sports talk with fathers who became grandfathers and their sons who are now bringing their sons in for haircuts. No politics or religion spoken here, just sports and local news while listening to the golden oldies.
"I have never met a bad young man while cutting hair here. That says something about the families who live here," said Blakey of his Mount Vernon customers.
The Community Builders Award recognizes non-Masons who are positive and notable contributors to the welfare of their community. Mount Vernon Masonic Lodge is located on Fort Hunt Road and is the only Masonic Lodge on George Washington's Mount Vernon Estate. President Washington was the first Master of Alexandria Washington Masonic Lodge No. 22.