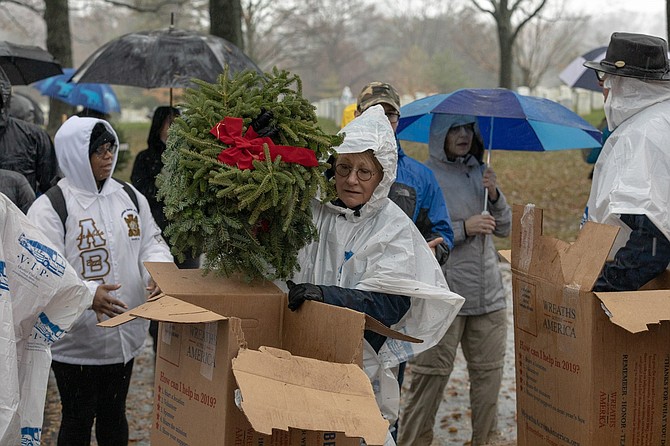 Despite a steady rain, nearly 57,000 volunteers gathered Dec. 15 for the 27th annual Wreaths Across America tribute to fallen veterans at Arlington National Cemetery.
"There's a story behind every stone," said Wreaths Across America board chair Wayne Hanson, who asked volunteers to say aloud the name on each headstone where they place a wreath. "There's a saying: 'you die twice. Once when your heart stops beating and you take that last breath. But you die a final time when your name is spoken for the very last time.'"
Across the region, 267,000 wreaths were laid, including more than 253,000 at Arlington National Cemetery. In all, 1.8 million graves received wreaths at 1,640 locations across the country.
Wreaths Across America was founded by Morrill Worcester of Columbia Falls, Maine, who hopes to see the event grow worldwide.
"The ultimate goal that we have is to place a wreath on every single American veteran's grave in the world," Worcester said. "And there are many overseas. It's a tall order. We know that."
A few dozen overseas locations participated in Wreaths Across America in 2018, the first year permission was granted to place wreaths at Normandy to honor those who died during World War II's D-Day invasion.
President Donald Trump made an unscheduled visit to Arlington National Cemetery later in the day to pay his respects and thank the volunteers who had braved the rain to participate in the tribute to America's fallen veterans.
See www.wreathsacrossamerica.org.