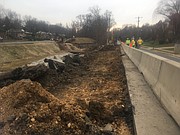 The rainfall and natural stream erosion processes took their toll on a section of Old Telegraph Road recently, causing some of the pavement to collapse so the Virginia Department of Transportation (VDOT) went into action, reinforcing the stream and rebuilding Old Telegraph Road in Wilton Woods.
This prompted engineers to take a closer look at this section of road beside Pikes Branch, a stream that is sandwiched between Telegraph Road and Old Telegraph Road, and now the "Pike's Branch Stream Restoration," project is taking shape.
"A long-term project is currently in design to restore about 5,500 linear feet of Pikes Branch and tributaries between Telegraph Road and Old Telegraph Road," read the VDOT description on its website.
Engineers gathered with residents and elected officials for a site visit on Dec. 12 to discuss project specifics and point out elements of the plan. The group, which amounted to about 50 people, walked along Old Telegraph Road, while VDOT engineer Joe Parfitt, from the VDOT Central Office, pointed out features and answered questions.
To the residents of Wilton Woods, the trees and bushes were a big concern because they provide a buffer between the houses and busy Telegraph Road. "It's a huge problem for us," said Samantha Mulvaney, a resident whose house fronts the stream. "It's really coverage that we're losing, sound barrier we're losing," she said. Deer that lived along the stream are now gathering in her yard.
VDOT put in yellow tape to mark the approximate clearing boundary, which will include some of the trees. They have also included a replanting diagram so some of the vegetation will be replaced but will not be as robust until it has regrown over time. Del. Mark Sickles (D-43) was among the walkers at the meeting. He's heard from some of his constituents. "This is a big concern," he said, but noting that it must be done to stop further erosion. "We're going to save as much as possible," he said.
The VDOT Central Office is leading the project and the VDOT Northern Virginia office is providing support.
Construction is expected to start in spring 2019 and be completed in late 2020.