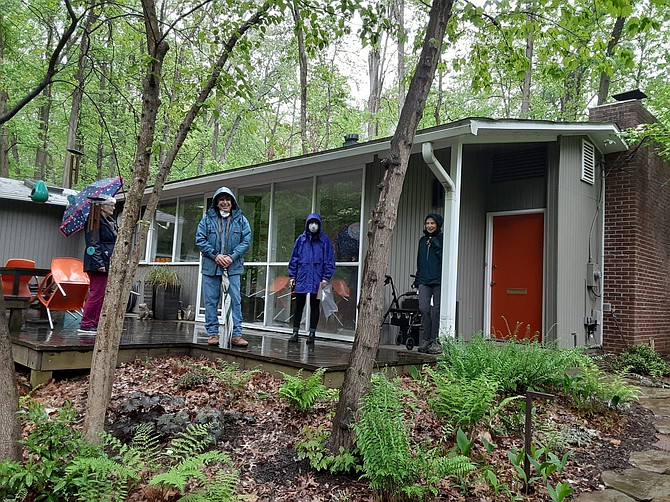 A pair of streams going through the community of Hollin Hills are the focus of a Fairfax County stream stabilization project, and some residents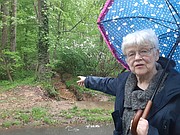 are in an uproar about it. The project is designed to slow stormwater down to enable those streams to catch and filter more impurities before they get into the Potomac River, and restore the channel to prevent more erosion. Restoring ecosystem health, conveying stormwater, improving soils and supporting the native vegetation are part of the plan, the county project information stated.
"It's all nonsense," said Marc Shapiro, one of the group of residents against the county plan.
According to Shapiro and a group of residents in Hollin Hills, the stream restoration project will cut down hundreds of trees, ruin the wooded nature of Hollin Hills with a large project staging area, trucks coming and going, and the erosion will continue, counter to the environmental policies that are part of Fairfax County's overall objectives.
"They sold this thing on fear," said Shapiro, a resident of Hollin Hills since 1952 who played in these streams that go through Brickelmaier Park and Goodman Park.
The plan is to stabilize the shores with rocks and plants, and used a similar county project at the Big Rocky Run Tributary as an example, which was presented to residents in August 2019. There were before-and-after shots to show what the stream bed could look like.
Supervisor Dan Storck (D- Mount Vernon) said 78 trees will be cut down, and 754 trees will be planted as part of their landscaping plan, and a permanent access path will be put in. "As with all stream restoration projects, the project team has made every effort to preserve as many existing trees as possible, including expanding the tree save area; however, the areas being restored are very narrow," Storck said.
Project History
Hollin Hills is a neighborhood of modern style homes constructed on the east side of Richmond Highway on the slope that leads into the Potomac River. The architecture, mid-century modern, was the work of architect Charles M. Goodman. The houses are in harmony with the surrounding wooded lots as Goodman planned, and the Hollin Hills Historic District was recognized by the National Register of Historic Places and the Virginia Landmarks Register in 2013.
This stream restoration project was first brought up in 2013 when residents came to then-Supervisor Gerry Hyland, and current Supervisor Storck (D- Mount Vernon) got some calls after that when he got into office.
"The community has wanted this project for more than a decade," Storck said. Storck has written a letter to the residents of Hollin Hills about the project and they will get it soon.
The expense to the county is $3.6 million, and Hollin Hills resident Mary Tracy is not for this kind of spending to fix a problem that isn't really impacting the neighborhood, she said. "Most of us, our property will be severely affected," she said. "It doesn't make sense in these little skinny parks," she added.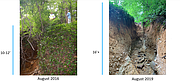 Tracking Erosion
The streams go through Brickelmaier Park and Goodman Park, and on the Fairfax County website, there are two comparative photos of stream erosion in 2016 and in 2019, and there is quite a difference between the two pictures. The rainwater gully went from 10-12 feet in 2016 to 16 feet in 2019. "Something has to be done," Storck said.
An opposing fact sheet on the county's proposal was compiled by Mary Tracy and others in the Hollin Hills Park Preservation Group. It claims a Hollin Hills resident and landscape architect who spearheaded the proposal, and project manager Meghan Fellows, came up with an idea to use "a 2,000 pound boulder approach to armoring the little streams because that's the equipment the stream industry is sized for."
A solution, the opponent's fact sheet states, is to remove the sections of Paul Spring Road that truncate the stream channels and to replace them with load-bearing, low-water crossings that freely allow stream flow in channels rather than through pipes. There was no cost estimate for that option.
On the August 2019 Fairfax County community slideshow, the county cited the Chesapeake Bay Agreement, of which Virginia is a part of along with Maryland, Pennsylvania, Washington, D.C., West Virginia, and Delaware. It is an agreement to restore the bay health and ecosystem. The goals of the latest agreement in 2014 states "the Chesapeake Bay Program partners envision an environmentally and economically sustainable Chesapeake Bay watershed with clean water, abundant life, conserved lands and access to the water, a vibrant cultural heritage and a diversity of engaged citizens and stakeholders," according to the EPA website.
Due to the underlying geology of the area where river gravel and sand is situated on marine clay, stormwater erosion is an ongoing problem. Fairfax County completed similar projects a few years ago at Gil McCutcheon Park, and most recently within Mount Vernon District Park. Another project is being constructed near Quander Road and Route 1, and a fourth project is in design further downstream on Paul Spring Branch near Sherwood Hall Lane.
Group member Monique Derfuss spoke by phone at the April 29 Board of Supervisor's meeting, urging Supervisor Storck to be fiscally responsible with the money slated for the project. She said it was "inconsistent with county climate action plan to move forward with this project."
Storck realizes everyone is not happy with the project, and he noted that it will be short term pain for long term gain slowing the erosion and sediments into the Potomac River. "That's the nature of projects like this," he said.