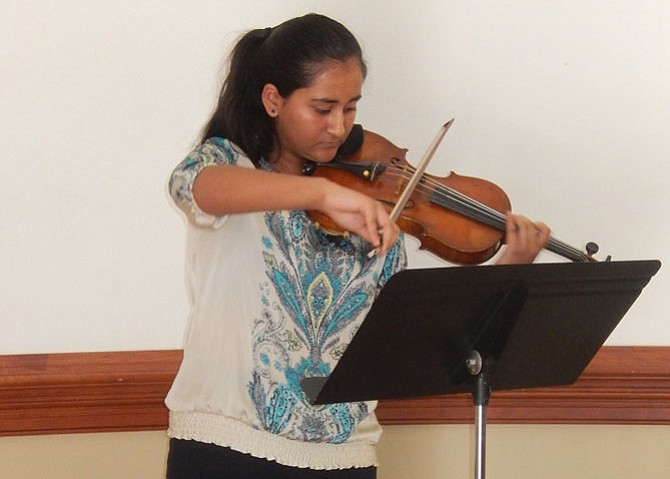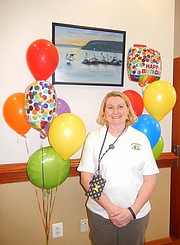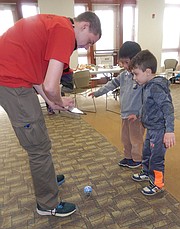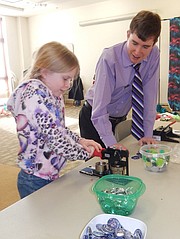 Children and adults alike flocked to the City of Fairfax Regional Library on Saturday to celebrate the library's 10th anniversary in its "new" location on North Street. The Jan. 27 event included live music performances, crafts, a balloon artist, refreshments and fun for the whole family.
Violinists, flautists and other members of the American Youth Philharmonic Orchestra entertained attendees at the entrance to the main room. Meanwhile, in another room, visitors snacked on cider and cookies while children played with robotic, iPad-controlled Sphero balls and made time capsules to take home.
They also posed for pictures in a photo area, made 10th-anniversary buttons, watched imaginative balloon creations take shape and decorated a paper birthday cake with colorful, paper candles on which they wrote their favorite things about the library.
BRANCH MANAGER Laura Raymond was the Sunday manager when this library opened its doors at 10360 North St. on Jan. 26, 2008. She's now the third branch manager to lead this building.
Part of the Fairfax County library system, the library is open Monday-Thursday, 10 a.m.-9 p.m.; Friday, 10 a.m.-6 p.m.; Saturday, 10 a.m.-5 p.m.; and Sunday, 1-5 p.m. For more information, go to www.fairfaxcounty.gov/library.
Raymond said the biggest changes she's seen at this library have been in the realm of technology. "Besides books, we have a large collection of eBooks that people can download for free with a library card," she said. "Even the way we check out books is different. People used to have to wait in line to check out, but now we have self-check-out, which kids love."
She said this branch opened with the same number of public computers it has now. "What's changed is the number of people who now bring their own devices – laptops, iPads and cell phones – and use our WiFi," said Raymond. "And this is in addition to using our computers."
As for books in languages other than English, she said the library opened with a Korean-language book collection. But now, because of demand, it also offers many books in both Spanish and Vietnamese.
"Another big thing we do here is have a robust ESL program with conversation groups and periodic classes dealing with topics such as citizenship," said Raymond. "And they're all free."
However, like all public libraries, she said, "Our bread-and-butter is comprised of our children's programs centering around early literacy. There are story hours for preschoolers and toddlers, plus a Mother Goose program for babies."
Furthermore, said Raymond, "We have a staff member on the Newbery Award selection committee for the best juvenile literature. So she started a book club in which children can read early copies of these books." A sampling of the library's many children's programs and activities – including its "Crazy Eights" program focusing on fun, math activities for school-aged children – may be found on the website.
In addition, she said, "One of the most unique things about this branch is that we have the Virginia Room. It's a collection of local history and genealogy materials, including a large photo archive."
Happy to be at such a busy and well-used library, Raymond was pleased with the turnout for Saturday's anniversary celebration. Attendees included various City dignitaries, past Library Board members and library staff, plus many families.
SPECIAL ACTIVITIES are also being held at the library, this coming weekend, as part of the City's annual Chocolate Lovers Festival.
"The public library is a leveling plane where everybody has access to books, computers and information," said Raymond. "We also have experts on staff to help people navigate it all. And every one of our programs for all ages – from early literacy for preschoolers up to genealogy for seniors – are free."
Overall, she said, she gets the most satisfaction from "the variety of things we do, the questions we get and the opportunity to assist people and help them find what they're looking for."