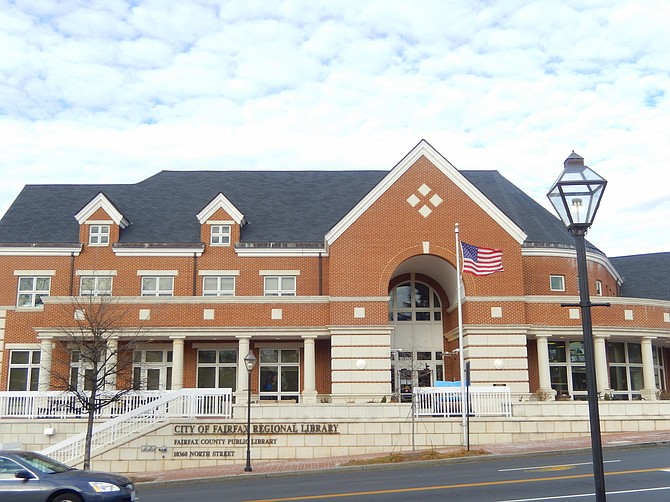 Part of the Fairfax County library system, the City of Fairfax Regional Library has been in its spacious home at 10360 North St., in Fairfax City's downtown, since January 2008. The new building replaced the old facility on Chain Bridge Road.
It's open Monday-Wednesday, 10 a.m.-9 p.m., and Thursday-Sunday, 10 a.m.-6 p.m. For information about its programs, go to https://www.fairfaxcounty.gov/library/branches/city-of-fairfax-regional.
There's a covered, two-level parking deck containing 199 spaces, including five accessible spots. (Vehicle height-limit is 6' 8"). The library, itself, has both stairs and an elevator, plus a large meeting room, two conference rooms and a small-group study room. 
And besides offering books for children, teens and adults, there's a large periodical collection and a section dedicated to materials for those learning English. Laura Raymond was the Sunday manager when this library first opened its doors on North Street, and she's now its third branch manager.
She said the biggest changes she's seen here have been in the realm of technology. "Besides books, we have a large collection of eBooks that people can download for free with a library card," said Raymond. "Even the way we check out books is different. People used to have to wait in line to check out, but now we have self-check-out, which kids love."
The library offers 45 internet stations with Microsoft Office, plus wireless access. What's changed, said Raymond, is "the number of people who now bring their own devices – laptops, iPads and cell phones – and use our free Wi-Fi. And this is in addition to using our computers."
As for books in languages other than English, the library initially opened with a Korean-language book collection. But because of demand, it added many books in Spanish and Vietnamese, as well. This library has an active ESL program that includes conversation groups in the evening. A variety of ethnic, cultural events are also held there. 
However, said Raymond, "Like all public libraries, our bread-and-butter is comprised of our children's programs centering around early literacy. There are story hours for preschoolers and toddlers, plus a Mother Goose program for babies."
And weather permitting, via "Storytime at Old Town Square," parents and children can even enjoy hearing stories outdoors, in Old Town Square, directly across the street. The library offers some science and crafts activities, too.
"One of the most unique things about this branch is that we have the Virginia Room," added Raymond. "It's a collection of local history and genealogy materials, including a large photo archive." 
And for people wanting to digitize their old photographs, slides or VHS tapes, this library is home to one of two Memory Depot stations in the county library system.
Languages spoken by branch staff include American Sign Language, Arabic, Farsi, Gujarati, Hindi, Marathi, Spanish and Urdu. Just call ahead (703-293-6227) to find out when a speaker of a specific language will be available.
"The public library is a leveling plane where everybody has access to books, computers and information," said Raymond. "We have experts on staff to help people navigate it all. And every one of our programs for all ages – from early literacy for preschoolers up to genealogy for seniors – are free."