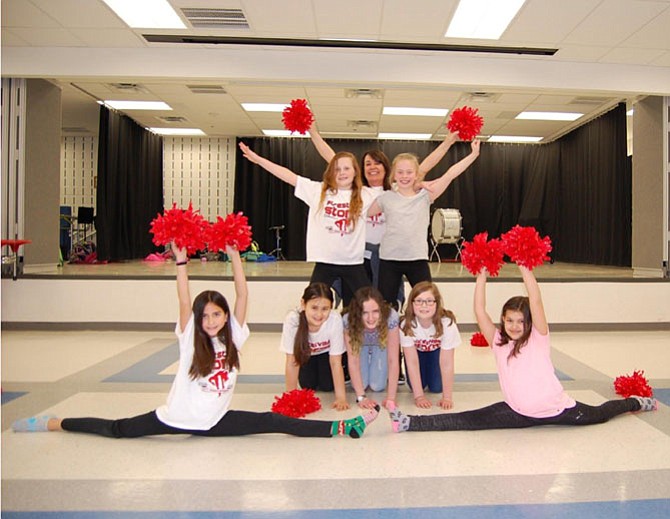 In 2007, a rising sixth grader wanted to do dance at her school, so her mother started the Forestville Storm dance team to fill the void. Robin DeRosa Lundgren, whose three children have gone through Forestville Elementary School, knew she could use her own dance background to make something happen. She got approval to run with the idea from then-school principal, Matt Harris, and the team is still going strong.
Harris, who served as principal from 2003 until retiring in 2013, bought into the idea quickly.
Harris said, "She didn't have to be too persistent because I felt it was a fantastic idea. For [children of any age] it's important to have a variety of outlets. Lundgren is a determined, bright, and creative individual, and her program [came at a time when other after-school activities run by parents] were petering out." He also had a personal investment in the program because he encouraged his then-fourth grade daughter, Caroline, to join and "she just loved it."
Harris worked with Lundgren to find opportunities for the children to perform, like PTA meetings or the Night of Thousand Stars school program.
Shortly after the team began, the Great Falls basketball coach approached her about the team performing at the All-Stars halftime show. In addition to that performance, they also perform at school assemblies, bingo night, the talent show, and any other opportunities that Lundgren feels will highlight their talents.
EARLY ON, the program had more than 30 children at any given time; not surprising since it was – and still is – the only one of its kind in the school system. She designed it as an all-inclusive, noncompetitive team for boys and girls in fourth to sixth grades.
"I didn't want to just have a program that's fun, but create a team where they support each other and become good teammates, and become comfortable and confident performing in front of people," Lundgren added.
The program is welcoming to the children because Lundgren makes a point of asking for their feedback and ideas on the music and choreography. Using a hybrid of jazz, ballet, and hip-hop, she tries to stay on top of the latest trends and big hits to keep it fresh and fun. "I have a lot of fun helping these kids realize they can do it and they do a great job. It's really rewarding to see them [grow]."
Carrie Lukas, mother of two girls in the program last year, still has a fifth grader in the program. She shared how her family became involved: "We moved to Great Falls [in 2016], and my daughters wanted to get involved in a dance program. This program has been a perfect mix of dance training and lots of fun with a great group of girls. Ms. Lundgren is such a positive coach and influence – she encourages them to work hard and creates real camaraderie among the girls."
Mary Merritt, mother of fifth grader Katie, added: "I love their creativity and enthusiasm. Robin does an amazing job not only with the actual dances, but also with focus, teamwork and imagination." Her daughter, who has done dance since kindergarten and on the dance team since last year, agrees: "I love that I can dance in front of people and that I have friends at dance. We have a blast!"
Lundgren spoke about the team's success: "Now in its 10th year, the team has evolved over the years to include becoming a regular attraction at the Great Falls Basketball All-Star games for the past nine years. The team has shrunk in size from the early days, partly by design and partly due to the offsite practice location. This confidence-building activity is the only one of its kind in FCPS elementary schools."
THE PROGRAM runs from early October to the end of April, with eight weeks in the fall session and 16 weeks in the spring session. Practice is currently every Tuesday from 4:15-6:15 p.m. at Christ the King Lutheran Church due to the renovations at Forestville Elementary. The Forestville Storm dance team has a number of upcoming events: Feb 9 - Bingo Night at Forestville; March 9 & 16 - Talent Show at Forestville; and in early March - GF Basketball All Stars (location TBD). She also teaches separate dance classes at Great Falls Elementary when there is enough interest.
For more information, email Robin DeRosa Lundgren directly at derosa320@aol.com or visit the team's Facebook page.