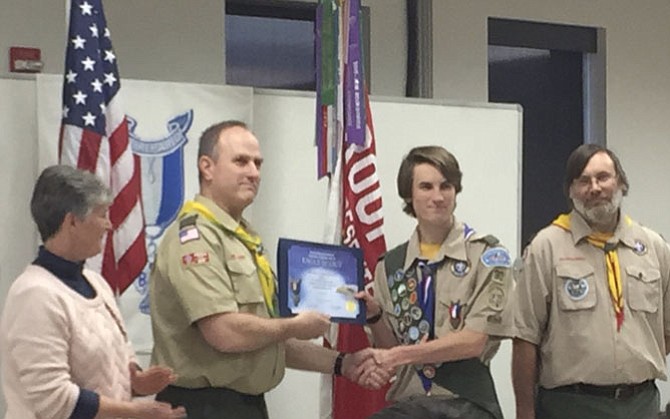 Troop 30 of Centreville honored Michael Cohen who earned the rank of Eagle Scout in an Eagle Court of Honor ceremony on the evening of Sunday, Jan. 7. Michael was recognized for his significant leadership achievements in the ceremony held at the troop's chartering organization, Centreville Presbyterian Church (CPC). Michael earned 24 merit badges and for his Eagle Scout Project he led a team of 18 workers totaling 144 hours in a project to support CPC by building from scratch four large benches at the entrance to the church.
Michael had a busy 2017 with working part-time, swimming on his high school team, sailing and scuba diving on a one-week scouting adventure, and finishing his Eagle Project.
More than 50 people attended his ceremony. Troop 30 is a mid-sized troop comprised of boys from the Centreville and Chantilly areas who attend the Westfield, Centreville, and Chantilly High School pyramids.