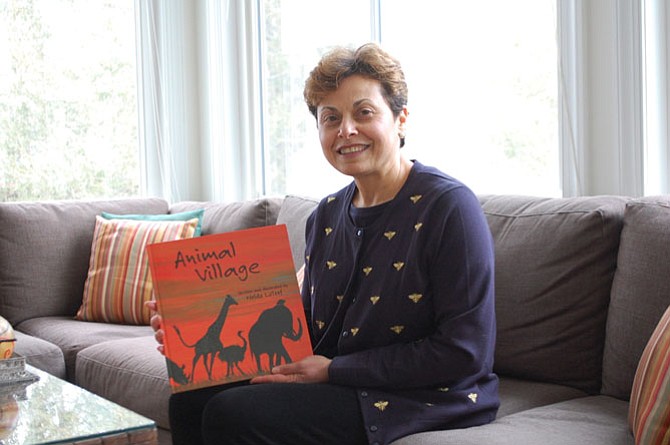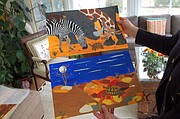 Swipes of a paintbrush and the clicking on a computer are the only sounds heard in Nelda LaTeef's house as she works. The Harvard alum, and resident of Great Falls, is an author of children's books, writing and illustrating all herself, providing colorful stories with equally vibrant pictures. "I love reading to children," LaTeef said. "It brings me joy, to see their eyes and have them ask such interesting questions that you wouldn't get from anyone else."
LaTeef created her books based on stories she heard from a griot (storyteller) during a trip to the Republic of Niger. "I used to love going into the bush part of Niger, you would see such amazing sites, and that's what helped in creating the illustrations so that children in sub-Saharan Africa and all over the world could hear the story of the Zarma culture."
Her friend acted as a translator so that LaTeef was able to write down the story in a notebook to recall later.
Her latest children's book, "Animal Village," is based on a story from the Zarma, told by the griot she met in the bush of Niger. The tale is about a turtle who was able to save her village of animals while they were in a drought.
LaTeef was able to convey the moral of the story and enjoys being able to draw in listeners from any age group. Her ability to not only spread the oral tradition of the Zarma, but also captivating people with illustrations she created with acrylic paints and collaging. The vibrancy and composition of the pictures creates a whole new element to the story and has readers as well as listeners craning their necks to see the works of art.
"Animal Village" tells a wonderful story that is sure to have its moral apply to those young and old, as well as exposing a culture otherwise unknown to most people. The book is translated into Gaelic, Korean and Italian as well to have children read the novel all over the world.
Director of the Smithsonian National Museum of African Art, Johnnetta Betsch Cole said, "'Animal Village' [has] such mighty lessons [that] Nelda LaTeef teaches the young and those of us who are not so young. Listen to the 'old stories' passed down from 'the ancestors.' It is always better to pull together rather than stand against each other; keep at task until it is done; [And] everything is possible, by and by."