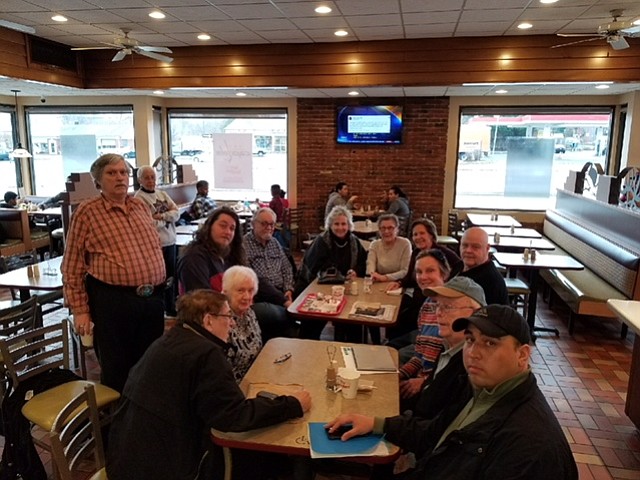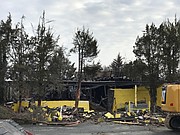 When Sam Nasafi received a call from Fairfax County Fire on Christmas Eve, he assumed that it was a fire in the dumpster on his property. In the past, youths had set fires in the dumpster.
He was not at all prepared for the blaze that had engulfed the property at 8101 Richmond Highway — the home of the Mount Vernon Antique Center.
The fire, which quickly engulfed the second floor, was reported around 9:15 p.m. on Christmas Night.
"I got a call and rushed over" said Nasafi. "The entire building was totally on fire — it was very devastating. To put out the fire, first responders broke into the front doors, but they said that the fire seemed like it was on second floor. They came in with construction equipment and bulldozed the place."
Smoke could be seen from miles away and Richmond Highway was closed in both directions. Trucks and personnel from stations in Lorton, Franconia and the city of Alexandria, among others, joined local units from Penn Daw, Mount Vernon and Woodlawn.
Firefighters initially tried to fight the fire inside but heavy fire conditions and heat forced them to withdraw.
Battalion Chief Willie F. Bailey said that it took approximately four minutes for firefighters to arrive and that the fire was brought under control in 60 minutes.
"There was no impact due to the failed hydrant," said Bailey. "When units were actively trying to extinguish the fire, we had two hydrants in use, upon transitioning to defensive operations the hydrant failed. However, units were able to quickly utilize a third hydrant that was located 50 feet from the hydrant that failed."
When asked about searching for bodies, Bailey said, "We will always perform a primary and secondary search for bodies. We were not able to perform primary or secondary search because conditions were not safe enough to commit personnel to complete them. We will risk our life to save a life but the building was locked up so there were no signs to believe that this was the case."
Nasafi had locked up the store at 5 p.m. after working on Christmas Eve. The store was closed for Christmas and no one was in the building when the fire started. No injuries to firefighters were reported.
Fire investigators were on the scene the next day, talking to dealers and customers as they came to look at the site of the former store.
Smoke was still coming from the building and firefighters were still looking for hot spots.
Nasafi has since met with multiple fire investigators. They are still looking into it. He just talked to the fire marshal and they said that the investigation is still going on.
Jeff Carney, lieutenant, Fire and Hazardous Materials Investigative Services, Fairfax Fire and Rescue Department, has taken over the investigation, and said, "The investigation is still ongoing. It should be a few weeks before we finish the investigation."
The fire department wanted to knock everything down unless Nasafi put a fence around the perimeter. He had to scramble to find somebody to put up a fence on Christmas, but it was the only way to secure the building.
The nearly 16,000-square-foot building was built in 1946 and was called Thieves Market for 40 years before it became the Mount Vernon Antique Center in 2002. Originally the building was a lumber mill and then Marlo Furniture took over.
Shortly after the fire, rumors started circulating that the building had been sold.
At a recent meeting with the dealers, Nasafi did confirm that they were in the process of selling the building to an Ethiopian church.
He said that he was looking to move north into another property that would help all of their sales.
"My goal was to find a better location to build a better business," said Nasafi.
The church has since cancelled the sale since there is no building. When asked why they wouldn't just sell the property, Nasafi said that the building was actually worth more than the land.
"I've been there for 17 years and there's nothing left. No showcases. This is all I know what to do. This is my income. This was my only job," Nasafi said.
He was able to go in and retrieve his computer so that he could pay dealers for their sales in December.
Several of the dealers have asked if they can go in, hoping that some of their items might still be in the building. Nasafi said that it is not safe and that they will need commercial equipment to move things around.
"Nobody can go in until they have finished with the investigation," said Nasafi. The insurance company has said that it is going to be very hard to determine cause because of how the building was bulldozed."
Nasafi is planning to rebuild, but it will be many months before that will happen.
In the meantime, he is looking at temporary spaces. He said that he talked a few times to the people who own the former Antique Warehouse but they weren't willing to commit to a short-term lease.
Most of the dealers have said that they would return if he rebuilds.
One of the antique dealers, Lucia Martinez, has started a GoFundMe Page, https://www.gofundme.com/4x1qk6g) page to rebuild the Richmond Highway antique mall. She described it as "the only true antique center" in the Mount Vernon area and included a computer repair shop that lower-income families could afford.
"This business was the only source of income for the Nasafi family who owned the building, [and] a second home to the dealers that occupied it, and the customers that frequented it, from local and military families to interior designers and real estate stagers," Martinez wrote.
She hopes to raise $300,000 to help the business find a new location and to support the dealers whose livelihoods depended on their businesses. She says many of the dealers are elderly people surviving on pensions, and some may not have had insurance covering the goods lost in the fire.
Insurance was on the building only. Dealers had to have their own insurance. In fact, only two dealers had insurance, and it is not clear how much they will be able to recover.
More than 30 vendors occupied the space and losses vary greatly according to individual dealer. Craig Baker and Alex Guthrie, owners of Eldest Geeks, said that they lost a considerable amount. Baker also lost a large part of his mineral collection, which he kept on site.
Another dealer, Madelyn Marchessault, said, "I've been booted out of one [antique] mall [in Leesburg] and burned out of another. I lost Waterford and a fair amount of Wedgewood."
Marilyn Moore, who sold fine furniture and other items, said, "I myself bought my first antique there when I was 21. I was driving around the beltway from Silver Spring, Md. to what was then called Thieves Market. Forty years later, I sold that chair to a couple just starting out in Old Town. They loved that story.
"Every vintage piece has a story. Maybe that's what drew so many kindred spirits to this place — the story of this D.C. institution, the stories of this crazy group who tries their hand at selling old things. We have heard by phone or text message from many friends, family and customers about how sorry they are about this loss.
"Sam and the many dealers, past and present are shocked and saddened. It is like a death in the family. It felt like family there — the dealers, the customers, the owners. I so appreciate being part of it. They say for every door God closes, he opens another. We will pick ourselves up and dust ourselves off and move forward."