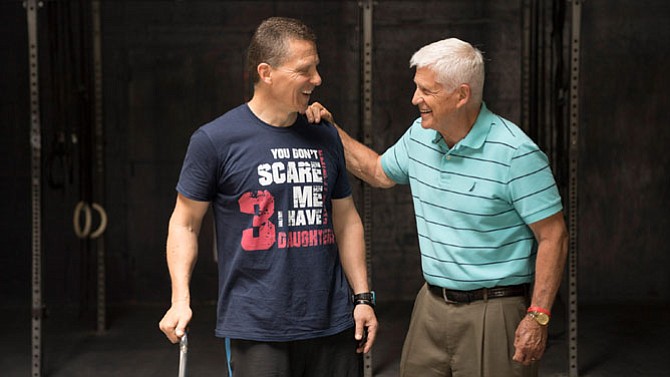 Whether you walk, run, swim, dance, lifelong Alexandrian Mike Hart would encourage you to keep your body in motion — even in the midst of illness. After all, he should know. More than five years ago, Hart was struck by an autoimmune disorder that could have ended his active life.
As difficult as it has been to push through multidimensional pain, however, Hart maintains that the pursuit of athletic goals keeps him on the road to recovery.
Hart's tenacity and inspirational outlook on his situation has recently landed him on an episode of "How We Heal," a series produced by CaringBridge, the global non-profit organization that provides an online forum for patients to communicate and otherwise build a support community as they recover from a full spectrum of illnesses and injuries.
"Just keep moving," Hart advised in his installment of "How We Heal." "Persevere … Whatever you do to make yourself better, it's going to pay off. And the other thing is, just keep moving. Whatever you do for exercise, just keep doing it. Just move, however you do it."
The "How We Heal" series is part of CaringBridge's National Healing Campaign, a movement that the Minnesota-headquartered non-profit started this year as a catalyst for conversation about the healing process.
"There is so much wisdom and encouragement captured in these stories that we thought we would ask the 'experts' about how they heal, in the hopes of helping others," CaringBridge CEO Liwanag Ojala said. "We wanted to hear from real people from the trenches of recovery. It turns out that there is no true definition of healing and science has yet to quantify it. So we want to start a national conversation around how people heal in the hope that we can all learn from others."
When the CaringBridge team was looking for inspirational stories to highlight, members were struck by Hart's journey.
"Mike had a unique story because so much was unknown early on, and yet he found healing in his particular way," Ojala said. "His choice of how he wanted to heal — distinct from how he could affect his health outcome — was to choose physical activity and 'keep moving.' Some people have the perception that people who are ill do just the opposite. Sharing Mike's perspective, I hope, motivates others to find their own version of what healing looks like. I was also struck by how his healing journey impacts three generations — not only his own, but that of his father and his daughters. Healing isn't just for the patient, but the community around the patient as well."
BEFORE DISEASE declared battle on his well-being six years ago, he never missed a Crossfit WOD (Workout of the Day), and the people he exercised alongside were some of his closest friends.
While the start line of the healing process typically starts with proper diagnosis, Hart hasn't halted on his own path toward healing. His to-this-day "undiagnosed autoimmune disease" has affected the way he walks and talks, but he has remained determined to combat the toll it has taken on his body.
And, prior to inspiring audiences through "How We Heal," he was doing the same for his immediate community through the CaringBridge website.
"I would just tell myself, 'Your community will benefit the more you're involved with it,' Hart said. "I would show how being active enhances your life in ways you can never imagine. Being able to interact with my community was a rewarding kind of experience."
Mike Hart's father, Bud Hart, said that CaringBridge allowed people to rally around his son during a precarious time.
"One of the best things about CaringBridge is that people could visit a website to learn about Mike's status, or to contribute," Bud Hart said. "People continue to be really interested in how he's doing. CaringBridge also made a fundraiser possible, which was necessary because a lot of medical treatments were new and experimental, so they weren't covered by insurance."
Bud Hart watched his son go through treatments at the Mayo Clinic, Johns Hopkins, Sloan Kettering as well as the National Institutes of Health.
Even without a specific diagnosis, Mike Hart has maintained a level of physical fitness that many would never have imagined possible.
"Mike was actually my coach in Crossfit six years ago, and then he got this disease," Bud Hart said. "It was like, 'boom,' he got sick. But, he still goes several days a week and is an assistant coach for Foundations, which is the program for people when they start Crossfit. He's there being an assistant coach with whoever is there at 5:55 in the morning. He can't run or jump, and doesn't have any coordination but still does a whole lot of heavy lifting. His deadlift is still 325 pounds, and his back squat is 250. It's not what it used to be, but that's still really something."
Mike Hart is more modest about his progress and achievements.
"I was doing all this before illness happened to me," he said. "I just kept on doing it. Healing to me meant perseverance and to just keep moving, to continue doing what I wanted to be doing."
It was easier said than done to keep moving forward
"I started to experience symptoms in the fall of 2011," Mike Hart said. "The first serious symptoms came a few months later. Here we are in 2018, about six years later, and it's still considered an undiagnosed autoimmune disorder. There's just no way to treat it. There's no prognosis."
LACK OF MEDICAL PRECEDENT won't stop Mike Hart from healing — and living the life he wants.
"I have moved on from finding out what caused my condition," Mike Hart said. "Many doctors, and health related organizations — and Lord knows I've been to so many that it doesn't matter to me anymore — still don't know the answer to that question. It'd be nice to know, but it's not imperative. What is important to me is what to do now. Not doing anything, no matter what your condition, is never the answer. So exercise, moving, however you choose to do it, makes sense for anybody. Just look at dog owners, for example. Taking your dog on a walk makes you go on a walk too. And that's good for you. Whatever your motivation is just keep moving. I think, if I can do it, anybody can."
He continues to inspire his close knit community at home as a father of three daughters, at the gym, through CaringBridge, and now on a larger scale with "How We Heal," which was filmed by National Geographic photographer and documentary filmmaker David McLain.
"We put the call out to CaringBridge users, many of whom have 'run the gauntlet' and hundreds responded with a willingness to open their hearts, and homes, and share their stories," Ojala said. "We knew these would be powerful stories and we needed a visual storyteller to work with, so we enlisted the help of David McLain, who was able to visit 20 families to kick off what will be the first in a series of episodes on this topic and others. The true purpose of this campaign is to illuminate, with patient and caregiver consent, key learnings from their experience that might help others. We are uniquely able to share these learnings across our widely-used platform, across many health conditions, to anyone in the world."
Mike Hart felt honored to be one of the 20 faces of CaringBridge's National Healing Campaign.
"When CaringBridge contacted me, I thought it was a perfect opportunity to inspire myself and be inspirational to other people," he said. "If I can be inspirational to anyone or to motivate anyone to better themselves, sick or not, it was so worth it."
To watch the full spotlight on Mike Hart, visit https://www.caringbridge.org/resources/mike-dont-feel-sorry-just-keep-moving/.