Centreville — Martin Grimm, Centreville High's new principal, has spent most of his life coaching, teaching and leading children. So it's understandable how he ended up in education.
"I wanted to play and coach basketball, but was a better coach than a player," he said. "I always worked with kids, coaching in basketball programs and camps."
Going into his sophomore year of college, Grimm ran a summer sports camp for a Boys and Girls Club in Washington State. "That was neat, so I did it for four years," he said. "And that's when I decided to go into teaching, because I loved it. People would pay me to do something I loved, and I could still coach."
He later moved to Colorado and graduated from Colorado State University with a bachelor's in exercise and sports science. He then taught advanced weight training and social issues in high school. Next, Grimm taught elementary-school P.E. in Colorado Springs while coaching basketball at Colorado College.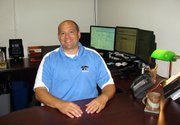 He was dean of students at Eldorado, a K-8 school in Boulder Valley, Colo. He also taught freshmen and sophomore exercise physiology and served as athletic director and men's head basketball coach at Oxford College of Emory University in Atlanta.
Grimm came to FCPS in 2003 as the director of student activities at Edison High. He became assistant principal there in 2008 and took over the helm at Centreville on July 1.
"High school was always my favorite," he said. "I like high-school kids — it's just such a fun age. What's cool is watching and hopefully contributing to their maturation from grades nine-12. I don't think there's a period where you grow more."
At age 14, said Grimm, "Some of them can hardly find their locker. But when they graduate, they've got to be ready for that next step, whatever it may be — military, college, jobs. So high school is a time when you can really make a lasting impact on them."
"And now and then, they thank you and acknowledge that," he continued. "It's really neat when they come back and tell you how much they appreciated what you did for them."
So how did Grimm end up at Centreville? "I'm picky about where I apply," he said. "And you have to be prepared." He applied for the job that became vacant after former principal, Mike Campbell, retired from FCPS and left for a similar post in Alabama.
"First, I asked around a lot about the school," said Grimm. "I talked to people at all levels, and everything they said to me about Centreville I liked. They said it feels like a family and the teachers take care of the kids. They said it's a very supportive community and that people really like it here — and those who leave want to come back."
He also learned that Centreville's students were excelling, so he decided that this school would give him "the opportunity, as a first-year principal, to get to know the kids and community and work on [new] relationships, without having to make a lot of changes."
Grimm said people he spoke with told him he'd be a good fit here and have fun. "You spend a lot of hours at work, so being able to enjoy the people you're around is important."
When he found out in May that he got the job, he was excited. It also meant he and his wife Grace — the principal at John Adams Elementary in Alexandria City Public Schools — now comprise a two-principal family, along with son Zachary, 7, and daughter Clare, 6.
Grimm first met Centreville's staff in June and then met with them and with the department chairs in August. He wanted to get to know them and ask what they'd change and what they were afraid he'd change.
"Mike Campbell was a successful, highly-thought-of principal," he said. "Change is always hard, but I feel like they'll have an open mind. I feel welcome and that people are willing to give me a chance and see what I can do." He said any "tweaking" by him will just support what the teachers are already doing. "I think our people do a good job," he added.
One goal was to create a new position of dean of students, and Kyle Hill has now joined the staff in that capacity. "It's to pay more attention to attendance," said Grimm. "We know, if we can get kids in class every day on time, they learn. So this will support both teachers and staff and benefit the students, too."
His other goal deals with technology. "I want thousands of iPads — but being used for instruction," he said. "If we can connect our instruction with more interactive technology, the students will be able to be more engaged. Kids could have their notes in there and see newspapers articles for current events. And they're more likely to read information on an iPad than on a handout or in a textbook."
Teachers wouldn't have to print out articles for students; they could direct students to read them on their iPads. Math and science teachers could also use them. For example, said Grimm, a teacher could read on the iPad, "Twitter reaches the 500 million mark."
"If I'm teaching differential equations, I could use it to make a math equation or have the kids figure out something related to that information," he said. "I've just made math relevant to my students. They can do some really high-level thinking while having fun, so I want the students and teachers trained to use the iPads properly. But it's just a tool for instruction; it's not the only way to learn, and it needs to be interactive."
Regarding his philosophy of leadership, Grimm said, "If you do what you say and you say what you do, then you do what's best for students — and everything flows out of that. You keep your promises."
But, he added, "One of the best things you do as a leader is to listen and ask good questions because, generally speaking, the answer is in the room. Even if you do have the answers, often the best way to lead is to have people come up with the answers on their own."
At Centreville, Grimm wants to talk with and get to know the more than 2,400 students, visit their classrooms and be visible in the school. He says his biggest challenge will be meeting all the demands of his job. "It's probably a 90-plus-hour workweek to do everything," he said. "So I'll need to strike a balance between going to meetings, doing paperwork and managing the building with strong instructional leadership."
"Between supporting the students and attending extracurricular activities, you could be here every night," he continued. He's also serious about being a good father to his own children, but believes he'll be able to accomplish "all these things well and within a reasonable amount of time."
Happy to be Centreville's principal, Grimm said, "These kids amaze you. Teens sometimes get a bad rap, but they're capable of such incredible things and acts of empathy. I'm excited to see how we can push the envelope from where we already are — in an outstanding place — and interested in seeing where we'll be in five years."