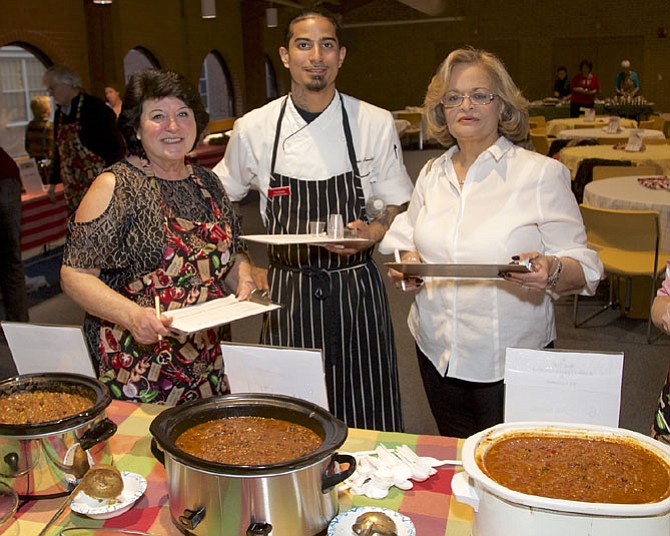 Three Potomac restaurants joined together with St. Francis Episcopal Church, Potomac Parish last month for a Chili Cookoff to raise funds to combat world hunger. This fundraiser was the first in a two-part project with Rise Against Hunger which will conclude with the packaging and sending of 10,000 meals to hungry people around the world.
Members of St. Francis organized a Chili Cookoff that featured more than 20 different kinds of chili prepared by parishioners and friends. Chris Benitez, chef at Lock 72 Kitchen & Bar; Youlia Vellios, owner of Tally Ho; and Sylvia Berman, owner of Hunters' Bar & Grill, served as celebrity judges to taste all the chilis and select a winner. Each chef also submitted a chili of his or her own. They ranged from hot and spicy to vegetarian and really showed off each chef's signature style.
There were 23 chili entries, including "Vegelicious Vegan Va Va Voom" (eggplant), "I Ain't From Texas" (beef), "Sheep Date" (lamb, tomato, black bean, onion), "Land of Milk and Honey" (pumpkin, carrot, rutabaga, cocoa bean), and "Buck's" (venison). In addition to the celebrity judges' votes for the best chili, prizes were awarded for the most creative name as well as for people's choice.
The chili was paired with cornbread, salad, and a dessert table, along with wine, beer, and soft drinks.
The winners were:
Most Creative Name: "Eleventh Plague" (pork sausage, beef, bean, tomato, onion, garlic, spices) submitted by Henry and Margie Scott.

People's Choice: "Texas Prison" (beef, bacon, onion, garlic, chili powder, water) submitted by Dexter Ewel.

3rd Place in Celebrity Judging: "Retreat No More" (beef, kidney beans, tomato, pepper, onion, spices) submitted by Bill and Emily Weinig.

2nd place in Celebrity Judging: "The Eleventh Plague" (pork sausage, beef, bean, tomato, onion, garlic, spices) submitted by Henry and Margie Scott.

1st Place in Celebrity Judging: "Councilmans Bob's" (meats, peppers, onion, garlic, mustard, beer, BBQ sauce, spices) submitted by Sue Tendell and Laura Hsiung.
The approximately $3,000 in proceeds from this Chili Cookoff will be used to purchase all the components for 10,000 healthy meals; St. Francis is partnering with the organization Rise Against Hunger to package meals that will be sent to hungry people all around the world.
Rise Against Hunger is dedicated to fighting world hunger. It distributes millions of meals annually to relief agencies in third-world and disaster-torn areas worldwide. Working through faith, corporate and school communities, it provides a blueprint for volunteer groups to raise funds and organize labor to purchase and assemble for shipment the dry ingredients for nutrient-packed meals — all for 29 cents a meal.
On March 3, St. Francis parishioners and friends will come together for the second part of the project: between 10 a.m. and 12 p.m., a small army of volunteers will package 10,000 meals. Rise Against Hunger will then distribute these meals to hungry people across the world. Residents are encouraged to volunteer. Contact Susan Weinig at 301-706-4100 or susan.weinig@gmail.com to sign up or for more information.