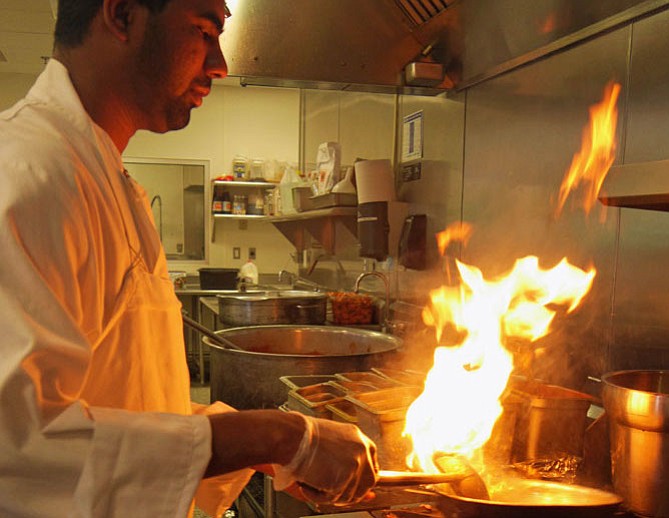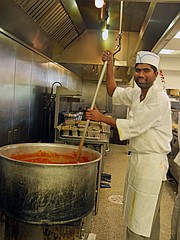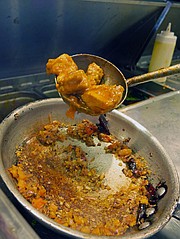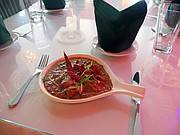 Naina Mohammed stirs a large pot of tomatoes, purple onions, fresh ginger, garlic bits and marsala — 15 different spices: "I use everything." Six blocks of butter float on the surface, slowly melting into the sauce that will simmer for two hours. Mohammed is making Madras chicken curry at London Curry House located at Cameron Station.
Mohammed ladles vegetable oil into a well-worn skillet and heats the oil until it crackles. He drops a handful of fennel geek into the pan and tosses in a broken dried red chili. He tosses the spices and flips the pan until the flames soar high to "smoke it" and get a better taste. In goes a ladle of diced tomatoes, again tossed to flaming. "Then I add a spoonful of fresh ginger and garlic bits. The red chili will make it a bit spicy," he says.
He dips into a container of chicken chunks marinating in onion, garlic bits and tomato and "flavored" with turmeric, coriander and cumin. Mohammed adds the chicken to the skillet and stirs for 2-3 minutes as the sauce splatters onto the burner. Now it is time for the tomato sauce that has been been partially removed from the kettle and kept on the back of six burners for easy reach. Mohammed works with two six-burner stoves and says he could use another six burners for the weekend. Every dish is made from scratch, and the manager Rabin Shrestha says, "We use different sauces for all of our dishes. In Southern India the dishes are more spicy." He says he has seen a trend in the last five years for Americans to want to try more spices.
Mohammed has made a paste out of flaked coconut, coriander, chilies, black pepper, cumin and water. The final step is to add a spoonful of coconut paste and then canned coconut milk for double flavor. "And just a minute, I have to get the garnish." He dishes up the chicken, sprinkles shredded ginger and cilantro and adds a chili pepper for the grand presentation.
Shrestha says customer favorites are butter chicken goat nehari and biryani that comes in a brass bowl with your choice of meat, topped with naan and baked in the oven. Mohammed's own favorite is chicken chhetinad, a recipe from Southwest India. He says that all of the masala for this dish are made from scratch, and it has herbs as well. "But it isn't on the menu." Sometimes the customers get lucky and it is added to the buffet.
Today's buffet features rhatura (a sweet corn curry with fried bread), egg fried rice, butter chicken, tandoori chicken — 10 dishes in all including the pakora (appetizers) and sweet rice pudding for dessert. A large container of rose water sits at the end of the table. Sunita Rana, a manager, says the rose water is very refreshing and soothing in the heat. The restaurant makes it with rose syrup but she remembers back home in Punjab her grandmother used to make it with crushed roses. The orange and tangerine dining area is punctuated with glass beads hanging around the windows. The bar in the next room offers a selection of beers including Taj Mahal and Kingfisher from Bangalore and a silent ball game on TV over the bar.
Mohammed has been chef at London Curry House for a year and a half. Previously he worked in another local restaurant. His training was a year in cook's college in India followed by three years in Dubai. He said he always liked to cook like his grandfather: "My favorite dish was his semolina pudding. He made it and sold it in the town. Everybody like[s] it."