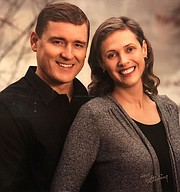 Lorton Teen Charged with Murdering Reston Couple
Homicide detectives obtained petitions charging a 17-year-old Lorton boy with the murders of Scott Fricker and his wife, Buckley Kuhn-Fricker. The suspect was the third person shot at the scene of the Dec. 22 double murder in the 2600 block of Black Fir Court in Reston. His injuries were self-inflicted and he remains in the hospital in life-threatening condition. He is under police guard, according to Fairfax County Police Department.
The preliminary investigation determined the suspect, who knows the residents of the home, got inside and was then confronted by the couple. The suspect shot them both and then himself.
Four other family members who were home at the time of the shooting were not hurt. Victim Services Section has been assisting them as needed.
The petitions will be served on the suspect at a time yet to be determined, depending on his medical condition. His identity is not being revealed due to his age.
As detectives continue to investigate this double homicide, they ask anyone with information to call non-emergency line at 703-691-2131.
Condolences and remembrances poured in verbally, by email, and through online condolences sites recognizing the positive spirit and giving hearts of Buckley Anne Kuhn Fricker, Esq. and Scott Spillane Fricker, Ph.D., the Reston couple who lost their lives in a senseless act of violence on Friday, Dec. 22, 2017, while protecting their family.
Buckley Kuhn Fricker left behind her parents, Janet Kuhn and Ira F. Kuhn Jr., and her brother, Reed Calvert Kuhn. Kuhn Fricker was an attorney with a background in Elder Law and Estate Planning. She founded Buckley's for Seniors, LLC and according to the company website put her name in the company title because she wanted the business to reflect her standards of excellence.
Her obituary states: "Rather than pursuing an active law practice, Buckley founded Buckley's for Seniors, a company that provides services for homebound seniors, allowing them to continue to reside in the community."
Scott Fricker was the son of John and Sandy Fricker of Burlington, N.C., the brother of Jason Fricker of Charleston, S. C., the father of Elliot Auden Fricker, and stepfather to Kelly Sizemore Kuhn and Amelia Sizemore Kuhn Fricker. Professionally, Fricker was a senior research psychologist for the United States Bureau of Labor Statistics, but as written in his obituary, "Scott's greatest enjoyment was being a loving and involved family member."
AMONG MANY CONDOLENCES, two common phrases stood out describing the Reston couple: always going the extra mile and radiating smiles.
Sharon Rainey worked with Buckley Kuhn Fricker. When asked to comment about Kuhn Fricker, Rainey described by email that she was "...kind, open, giving, compassionate, bright, knowledgeable, of service to anyone and everyone she met...Buckley didn't have an unkind word or thought for anyone...Her smile radiated... Buckley was a source of light, of good, of kindness. She was an earth angel."
Karen M. McPhail, managing director, Eldementals, LLC Geriatric Care Management, Care Advisor, Healthcare Consulting and Advocacy Services wrote: "As an aging life care manager, I knew Buckley personally and professionally... Buckley was an amazing support, advocate, and resource...Our lives were truly changed and impacted positively due to her kindness, compassion, and expertise."
Susan Smit of Chantilly wrote in her condolences: "Buckley was such a Miracle Worker for the people she represented and cared for. She had the gift of compassion and honesty that made the situation shine even when things were out of control. We lost a true Angel."
In his condolences Jeff Costantino of Denver, Colorado wrote, "I knew Scott in high school when we both worked at Erol's in McLean. He was very friendly and kind, plus fun to hang out with when things got a little boring at the store."
Ann Brown-Collier, McLean, wrote that she and her family have wonderful memories of Scott from their McLean days — from the early Lewinsville... "Now our hearts are broken with you."
Kathi Brown, OF Oakton, wrote that when she saw his name at a recent conference, she immediately recalled Scott playing soccer with her brothers. "Although I didn't really know Scott, he was so friendly and gracious when I recognized his name at a conference a few years ago, and introduced myself. I'm glad that I had a chance to briefly experience the fun, warm charisma that everyone here seems to be recalling."
In an email exchange, Julie Lopez, District of Columbia shared: "Scott Fricker was a person who stood out. He was always smiling and laughing a lot. He and I were on a very competitive Division 1 summer swim team together in McLean for our entire childhood... As we got older, Scott grew into a leader. He encouraged younger swimmers... I remember many instances when he would take extra efforts... He did that kind of thing for a lot of people...I'm not surprised in his efforts to protect his family."
INSTEAD OF FLOWERS, the Fricker family suggested that a prayer be said for all affected by this tragedy and to treasure the moments we have with one another.
Kuhn Fricker's family suggested that instead of flowers, a donation is made to the National Alliance on Mental Illness (NAMI) in the name of Buckley and Scott Fricker.