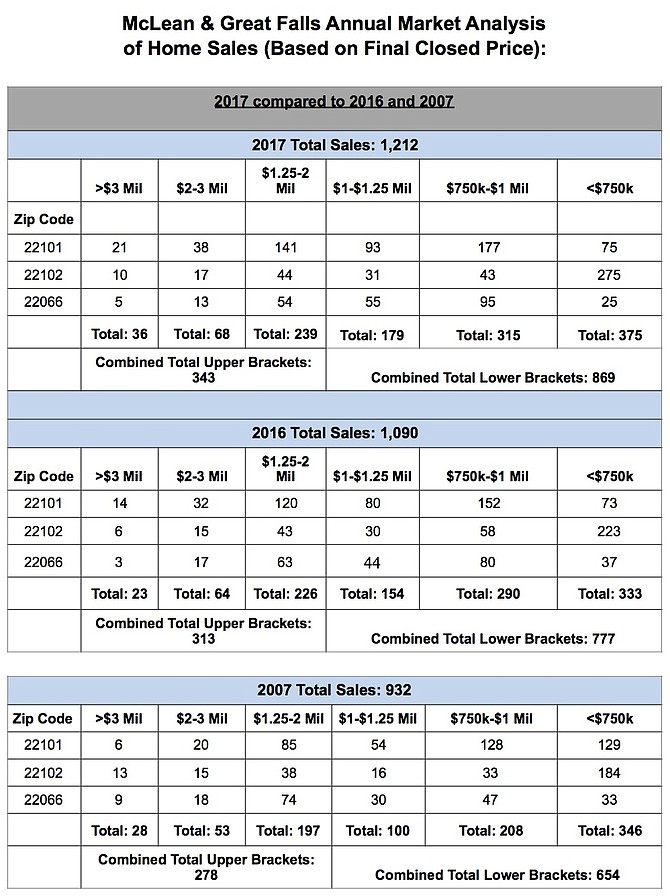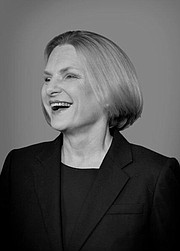 The number of real estate transactions in McLean and Great Falls closed out the year in 2017 11 percent greater than in 2016. In comparison to the 2007 market just one decade ago, the number is up almost 30 percent. The last peak year for Northern Virginia real estate was 2007. All price segments performed better or remained steady in 2017 compared to 2016 and the benchmark year of 2007. This is good news as we look towards the 2018 spring season.
The most significant increases in number of sales not surprisingly occurred in the lower price brackets. Homes priced under $1.25 million for the zip codes 22101, 22102 and 22066 comprised the majority of the gains. The under $750,000 is predominately condos, townhomes, smaller single-family homes or lot/land where the existing home is torn down and a new home is constructed. The lower brackets, which represent 72 percent of the market, comprises three price ranges: under $750,000; $750,000 to $1 million and $1 million to $1.25 million.

The move-up buyer in McLean and Great Falls includes the next three price brackets which are: $1.25 million to $2 million; $2 million to $3 million and $3 million plus. The market improved the most for luxury properties over $3 million.
Home Sellers in the area experienced in many cases the "best of times" market conditions in 2017. As we move into the new year, there are strong indications that homes priced well and in good condition will sell for solid prices. Should demand continue to remain strong relative to supply, some market segments may experience price appreciation.
Purchasing in an up-market cycle frequently proves advantageous over time and gives area Home Buyers the confidence to make a move. In many cases there is an opportunity for the great arbitrage of selling well in the lower price points and buying up well in the upper brackets.
Though Northern Virginia is presently in wintertime, the spring market is just around the corner. Start now to beat the rush.
Karen Briscoe with HBC Group at Keller Williams is an active and experienced Realtor in the Northern Virginia marketplace. Briscoe, alongside her partner Lizzy Conroy and team, works with sellers, buyers, investors and builders in all price ranges. www.HBCGroupKW.com, 703-734-0192, Homes@HBCGroupKW.com.