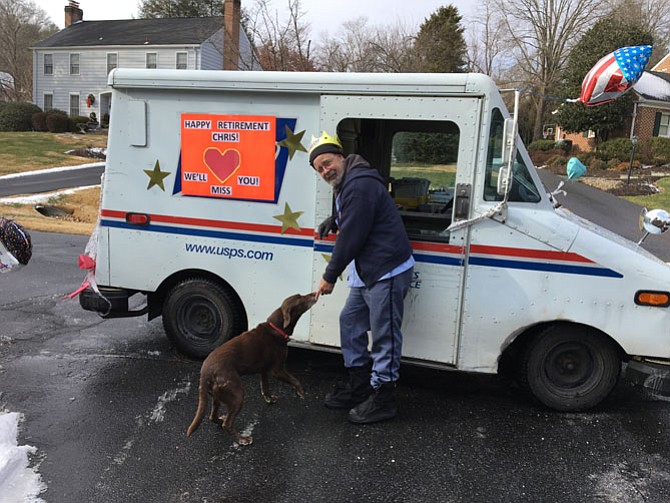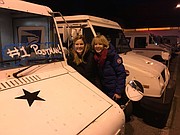 When Christopher Bucy decided to retire from his job as a letter carrier with the Potomac Post Office on Dec. 30, he had no idea his best days of work were still ahead of him.
Bucy, who served 31 years with the U.S. Post Office, spent 17 of those years on the same Potomac route, serving the McAuley Park area along Kentsdale Drive, including side streets, from Bradley Boulevard to Newbridge Road.
Residents learned that Dec. 30 would be Bucy's last day on the route and decided to make the day special for him.
"Chris has been an amazing mailman," Nancy Clark, a McAuley Park resident, wrote in an email. "He brings mail and packages up to each door, knows all the family members by name, does a 'presentation ceremony' of the mail whenever someone gets a college acceptance, and always has biscuits for the dogs."
Clark said she thought her family was Bucy's favorite but learned that he treated all the residents on his route with the same courtesy and friendliness.
"He was very special," neighbor Bunny Lamb said. "He gave personal attention … sort of like Mayberry … he got to personally know our family. You don't get that much anymore."
Clark said she posted a "let's do something" message on the neighborhood listserv and almost immediately neighbors agreed to put balloons on their mailboxes for Bucy's last day, attaching personal notes and cards wishing him well.
"There had to be at least 150 balloons throughout the neighborhood," Clark said. "It was so heartwarming to see this outpouring."
All this was a surprise to Bucy as he came to work for his final day. Clark and her daughter even got permission to decorate Bucy's mail truck with balloons and a "Happy retirement, Chris" sign.
"I was a one-man parade," Bucy said. "People came out to tell me they would miss me, it was a good feeling."
That last day was one of the best of his career, Bucy said.
He said the secret to his success is treating people as he would like to be treated.
"When I deliver parcels, I always ring the bell to see if someone's home," he said. "If no one was home, I'd hide the package so you couldn't see it from the street. If I knew [residents] were away, I'd keep an eye on the house. My customers are an extended part of my family."
After 31 years with the U. S. Postal Service, Bucy said he is retiring because of family. His mother now lives with him, he said, and she does not take well to the cold weather. So, he and his wife and mother will move to Florida soon.
Eduardo Lopez, Potomac Post Office branch manager, said it is not unusual for letter carriers and their customers to develop fond relationships.
"Think about it," he said. "If you had the same carrier for almost 20 years, he probably saw your children grow up, maybe even remembers them being born, leave for college, come home. He probably knows more about you than many of your neighbors."
One more contingent in the neighborhood that will miss Bucy is the dogs.
"Our dog knew the sound of his truck," Clark said. "he always has biscuits for the dogs."