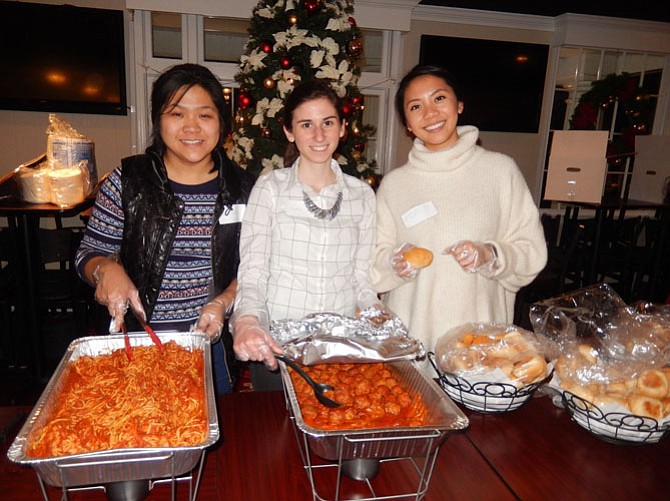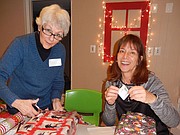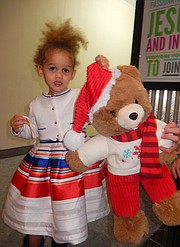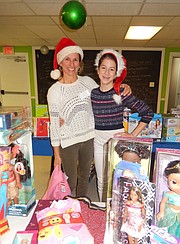 Not everyone in Fairfax County is wealthy. And when parents are struggling just to pay the electric bill or put food on the table, it's tough to scrape together extra money for Christmas gifts.
So nonprofit FACETS held Sibling Shops before the holidays at its five community centers to lend a hand. They were holiday parties for children whose families live in affordable and public-housing communities and have an average income under $20,000 for a family of four.
Also invited were children whose families were recently homeless. The parties featured food and games and let children "shop" among donated gifts to pick out presents for their brothers and sisters. Then volunteers wrapped them for the holidays and gave them to the children to take home.
One of these Sibling Shops was held Dec. 13 at Centerpointe Church in Fair Oaks and was for local children living in the Ragan Oaks community and attending FACETS' community center at Centerpointe. But the church took things one step further.
"We wanted to find a unique way to touch our community," said the Rev. Keith Edwards. "So we decided to help kids 'shop' for their parents, and we've been doing this for five years. Church members donate clothing, hats, scarves, gloves, etc., and then church and FACETS volunteers wrap them as presents."
"This year is the first year FACETS has joined us for this event, with its Sibling Shop, but we partner with them on other things," continued Edwards. "We sometimes mentor the children at Ragan Oaks and they use our basketball court and playground area."
However, he stressed, it's not an evangelist outreach, but a relationship outreach. And, added Edwards, "It's created a wonderful relationship over the years, and so many people got on board."
For the holiday event, the church set up a wish list on Amazon and then people were able to purchase the gift items online. "We know what gifts go fastest in this community," said Edwards. "And we received [financial] offerings to fill in the gaps."
For both the church and FACETS, presents were in the $10-$25 price range. Items for children included toy cars and trucks, games, books, dolls and stuffed animals. Gifts for parents were things such as slippers, candles, small appliances and throw blankets.
At Centerpointe, children sat at tables with volunteers, ate a spaghetti dinner and did holiday activities until it was their turn to go shop in the rooms with the presents. The table volunteers were from FACETS, area businesses and the church.
"Some of our church teenagers host each table, visit with the kids and supervise them," said Edwards. "They also help them pick out gifts and get them wrapped. The kids don't have a lot of resources to buy presents, so this is their opportunity to get gifts for their parents, and they're excited about it."
Among those hosting a table were four employees of Capital One in Vienna. They recruit potential employees from college campuses and said Capital One offers volunteer opportunities all year 'round. So what made them choose this, particular chance to volunteer?
"I have a little sister, 10 years younger than me, so shopping for siblings is really sweet," said Chelsea Woods at the start of the event. "We're going to help them shop and do whatever FACETS needs us to do."
"When I was younger, I did a Toys for Tots thing, helping other kids," said Lauren Wright. "So this brings back memories, and I wanted to do it again."
Alexis Barron said she really likes children and being around them. And, she said, "It's always nice to give back, especially at this time of year, so I'm excited to be here."
"We travel a lot in our jobs, so we don't get a lot of opportunities to do things like this at home," added Kelly Skahan. "So it's nice to be with a different demographic and do something to impact the local community."
Also hosting tables were Centerpointe Church youth group members C.J. McDonald and Malcolm Vanderiet. "I've been part of the youth group here for a while, and this is a good way to help people," said McDonald. "This really helps out the local neighborhoods, and the kids get to experience what we do here and have a good time."
"We did this last year, and it was such a good experience," added Vanderiet. "It also shows the local community how this church works and that we love Christ. And it's a good opportunity to give back."
Children picking out gifts included 3-year-old Lorelei Graham, who selected a teddy bear for her brother Aiden. Nathan Boateng, 9, chose a Barbie doll for his sister, and Nabeel Bhatti, 16, shopped for candles for his mother and a Target gift card for his brother.
Helping children pick out toys for their siblings were FACETS volunteer Kati Hesford and her teenage daughter Frances. "This is the third year I've done it," said Kati Hesford. "And for me, it's the true meaning of Christmas – helping other people experience a little moment of joy and giving that they might not have been able to, otherwise, since they're financially struggling. And they're our neighbors. I'm happy to be here – it gets me in the Christmas spirit."