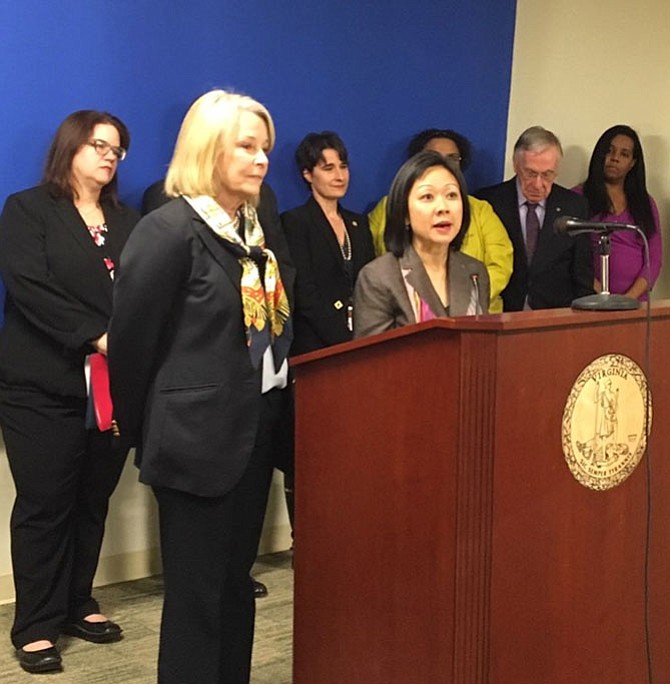 "Looking around the House of Delegates, I was very moved to see our government begin to reflect the diversity of our Commonwealth." — Del. Kathy Tran (D-42)
Tuesday, Jan. 9, 2018
I joined my Democratic colleagues at my first press conference of the session to highlight the importance of breaking down barriers to voting and increasing voter participation. I discussed HB 1058, the Uniform Military and Overseas Act, which will give active duty military service members and Virginia National Guard members who are stationed overseas the option of securely voting online. I introduced this bill, which is chief co-patroned by Del. Kathleen Murphy (D-34), because I believe that voting is a cornerstone of our democracy, and I want to ensure that our service men and women – who risk their lives every day to protect our right to vote – have more options to take part in our democracy, especially when stationed overseas.
My staff and I finished moving into our offices at the Pocahontas Building. We are located at W432 and W432A, and I hope that many of my constituents from the 42nd District will come and visit us in Richmond.
Wednesday, Jan. 10
The deadline to pre-file legislation was at 10 a.m. and I was excited to file my first set of bills. These bills aim to strengthen our public school system, support our workforce including the successful transition of veterans to the civilian workforce, and promote green energy.
The Virginia House of Delegates convened at noon and the 2018 General Assembly session officially started. I was sworn in, along with my colleagues, and I promised to uphold the Constitution of the United States and the Constitution of Commonwealth of Virginia. I am honored to represent my community and am dedicated to doing all I can to be a thoughtful policymaker and a strong voice for my constituents in the 42nd District.
Looking around the House of Delegates, I was very moved to see our government begin to reflect the diversity of our Commonwealth. I am proud to be one of the first Asian American women and the first Vietnamese American to be elected to state government in Virginia. I look forward to working with my colleagues to ensure that everyone has opportunities to thrive in our Commonwealth.
This afternoon, I welcomed to Richmond several constituents who came as my guests to watch the start of the session and to hear Governor McAuliffe's final State of the Commonwealth and farewell address. I ended the first day of session by attending Governor McAuliffe's reception to mark the conclusion of his tenure as governor.
Thursday, Jan. 11
I joined my Democratic colleagues in the House and Senate for a joint press conference on expanding Medicaid to nearly 400,000 hardworking Virginians. The strong moral and economic imperatives for expanding Medicaid are undeniable. Del. Wendy Gooditis (D-Clark County) shared her powerful story about how lack of access to medical care for her brother motivated her to run for office. I stand with Delegate Gooditis and all families across the Commonwealth who understand firsthand the need to increase access to healthcare. I am committed to working with my Democratic and Republican colleagues in the General Assembly to ensure we expand Medicaid.
During session, Speaker Kirk Cox (R-Chesterfield) announced the 2018 Committee assignments. I am honored to have been selected for the Privileges and Elections Committee and the Science and Technology Committee.
Del. Vivian Watts (D-39) delivered a powerful speech regarding the history of women in the Virginia House of Delegates. She highlighted that there have never been more than 19 women in the House of Delegates at any one time before this year, when 28 women took the oath of office. The professional experiences and backgrounds that we bring to the General Assembly better reflect the communities we serve and keenly inform our policymaking.
I also met with the Virginia Interfaith Center for Public Policy to discuss different issues impacting diverse faith communities with my colleague Del. Debra Rodman (D-Henrico). I enjoyed the conversation and look forward to continuing to engage with constituents and local community organizations.
Friday, January 12, 2018
I attended my first Privileges and Elections Committee meeting. There are numerous bills that have been introduced in the House of Delegates focused on ending gerrymandering and making voting more accessible. I look forward to working with my colleagues on the Privileges and Elections Committee this session to find solutions to concerns people across the Commonwealth, including here in the 42nd District, have regarding our democratic process.
Later on in the day I spent time talking to my colleagues in the General Assembly on different issues I am working on, including strengthening our schools and ensuring that Virginia is welcoming and inclusive of everyone. The busy week ended on a positive note as I prepared for Inauguration Weekend in Richmond with my family.
Saturday, Jan. 13
My husband and I were honored to participate in the inauguration ceremony for the 73rd Governor of the Commonwealth of Virginia, Dr. Ralph S. Northam, Lt. Governor Justin Fairfax, and Attorney General Mark Herring. The General Assembly met in a Joint Assembly in the House Chamber at 11 a.m. and then convened on the Capitol Portico for the inauguration ceremony at noon.
In his address, Governor Northam spoke about how his upbringing on the Eastern Shore and his experience as a pediatric neurologist has shaped his perspectives as a policymaker, and he shared his vision to advance opportunity and hope for all in the Commonwealth. It was a bitterly cold afternoon with some snow flurries, but the sun shined brightly at the conclusion of Governor Northam's speech. After the inauguration ceremony, there was a parade featuring marching bands and community organizations from across the Commonwealth. I found it very moving that Lt. Governor Fairfax, only the second African American to hold statewide office in Virginia, was sworn in during Martin Luther King, Jr. weekend. That night, we celebrated our new statewide officials at the Governor's inaugural ball.
Sunday, Jan. 14
After a whirlwind first week of the 2018 General Assembly session, I spent time with my family in Richmond. My husband, children and I visited the "Terracotta Army: Legacy of the First Emperor of China," special exhibit at the Virginia Museum of Fine Arts. This was our first time going to the VMFA, and I was glad to have a chance to explore one of the Commonwealth's finest cultural institutions.
Monday, Jan. 15
I had a very busy Dr. Martin Luther King, Jr. Day. I attended my first Science and Technology Committee meeting and look forward to working with my colleagues to ensure that we are effectively leveraging technology and scientific advancements to meet the various needs of our Commonwealth.
I joined my colleagues in the General Assembly, Attorney General Mark Herring, Lieutenant Governor Justin Fairfax, and Governor Ralph Northam at a rally to prevent gun violence organized by the Virginia Center for Public Safety. I heard moving stories of victims and families and talked with constituents about the need to find common sense solutions to end gun violence.
I also met with constituents from the Hemophilia Association of the Capital Area about support for people with bleeding disorders and spoke with stakeholders about the need to make our Commonwealth more inclusive and to protect and advance voting rights. My office heard from constituents about their rights as gun owners. It was a full day of fruitful conversations about issues that matter to our community.
My husband and children were in the gallery for the opening of session, and I was very proud that they were able to experience this aspect of our democracy. I was excited to publish my first newsletter, which will be disseminated weekly during session via email and on my website (www.kathyfordelegate.com). This is one way that I am keeping my constituents updated about happenings in the General Assembly.
Tuesday, Jan. 16
I had the honor of meeting with constituents and members of the Fairfax County Professional Firefighters and Paramedics Local 2068. We discussed the need to ensure that our firefighters receive necessary healthcare. Firefighters and first responders serve our communities in times of emergencies, and I am committed to standing with them.
My office also heard from constituents concerned about discrimination against people with disabilities. I have had the opportunity to meet with individuals with disabilities in the 42nd District, their families, and advocates, and I will be a strong advocate for their rights.
I ended the day meeting with stakeholders about HB 1111, STEAM (science, technology, engineering, arts, and mathematics) Education Fund, which would support STEAM programs in public K-12 schools. I will work hard to engage my constituents, Democratic and Republican colleagues in the General Assembly, and stakeholders to advance my bills during this session.