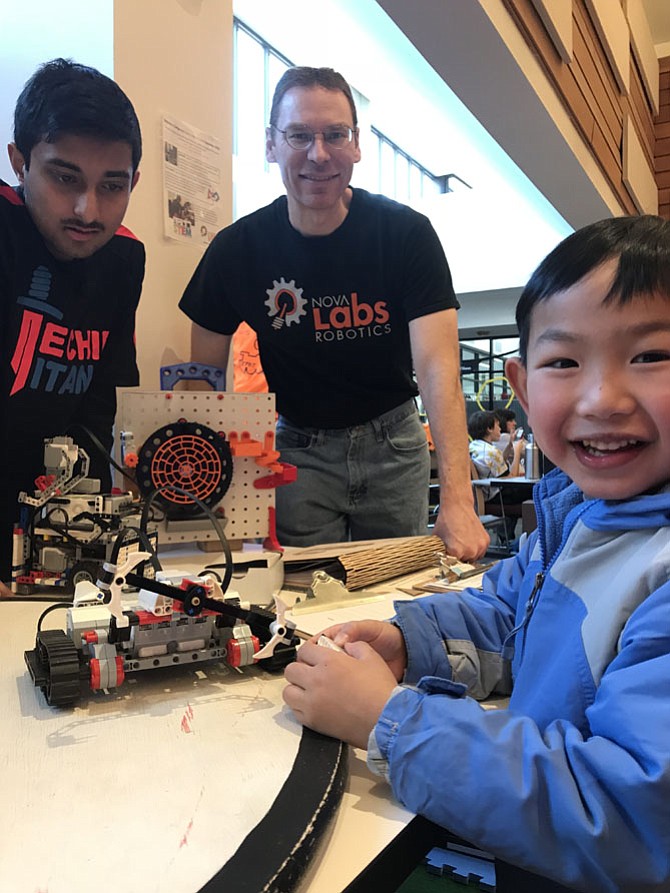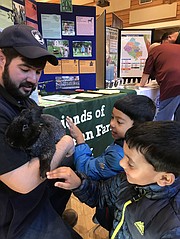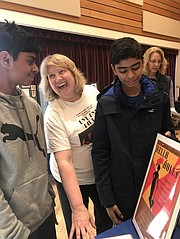 The calendar may have said January, but it wasn't too early for the fifth annual Reston Camp Expo held Saturday, Jan. 27 at the Reston Community Center, 2310 Colts Neck Road, Reston. The free event brought together hundreds of out-of-school activities and summer camp programs for preschool children to teens.
The informative event, coordinated by local non-profit organizations and Fairfax County government agencies in support of the Reston Opportunity Neighborhood program was hosted by Reston Community Center and offered complimentary snacks, games, and activities with door prizes, adding to the festive atmosphere.
Many local nonprofit organizations and agencies were on hand to showcase their many programs and answer questions, among them Fairfax County Public Schools, Reston Association, Fairfax County Park Authority, Reston Community Center, Cornerstones/Reston Opportunity Neighborhood, Reston Soccer, NOVA Labs, Herndon High Drama Boosters, YMCA Fairfax County Reston and more. This year's event also featured youth sports organizations and providers.
"It really is one-stop shopping," said Eileen Boone, Reston Community Center's Leisure and Learning Director. "This event is super convenient for parents and caregivers to meet with dozens of camp and out-of-school providers."
MANY CAMPS offered scholarships or fee waivers to assist lower-income families with the cost. Camps varied by age, time frame, options, and themes. Camp offerings included, but were not limited to, all-day general interest, STEM/STEAM, sports, nature, photography, and theme camps. Special Needs camps were also available and for older youth and teens, Counselor-In-Training programs and employment opportunities.
Vijaya Kunchala of Reston and her two sons Tej, 8, and Moksha, 5, visited the Friends of Frying Pan Farm Park booth where Patrick McNamara, Senior Staff Interpreter History and Agriculture of Fairfax County Park Authority stood holding a domesticated silver fox rabbit. Lured by the rabbit's quiet demeanor, the boys willingly stepped forward to pet Huckleberry while mom inquired about nature and outdoor camps at the park.
On the other side of the large multipurpose room, Xue Ye of Wolf Trap stood at the NOVA Labs booth with her 5-year-old son Ryan. She asked about a camp for her older son. "He's into science," Ye said.
She learned NOVA Labs is a nonprofit organization and is a makerspace in Reston providing classes such as mobile app development, robotics, 3D printing and more. While mom talked with the volunteers and gathered information, Ryan gazed intently at a "bot" moving on the display table created by youth at NOVA Labs.
Given the controls, Ryan gleefully drove the bot round and round the table. Ryan's mom assured him she would find him a fun camp too, but maybe something outdoors.
FEATURED CAMPS were not just for preschoolers through youth. Job opportunities were also available. Adit and Atin Kolli, both 14 and from Herndon made their rounds to many booths seeking employment. "We are here looking at camps and to possibly work or volunteer at one," Adit said with Atin agreeing. Asked where they would like to work or in what field, Atin replied, "Frying Pan Park," while Adit quickly interjected, "Aquatics." For more information about Reston Camp Expo, contact LaTanja Jones, RCC Collaboration & Outreach Director, at 703-390-6158.