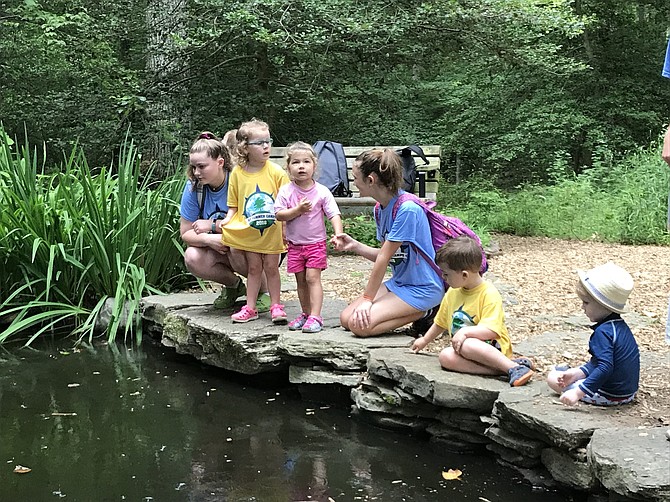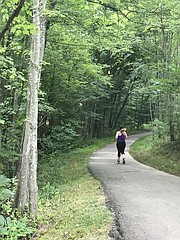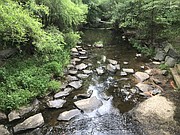 While July is designated as National Parks and Recreation month, Restonians actually live in a park 12 months of the year. One-seventh of the land in Reston is reserved for nature, with Reston Association reporting that more than 1,350 acres of open space is maintained throughout the community.
Paths link people from their homes to nature, to its woods and meadows, to its streams for fishing and to Reston's five lakes created by storm run-off that offer opportunities to canoe and kayak.
At the Vernon Walker Nature Center, citizens are taught about nature and sustainability. Even the youngest of children have a chance to learn about the world around them through hands-on activities and walks in the woods when enrolled in the Nature Tots programs.

During a recent visit to the center, a group of six little children scampered down a wooded path and picked up leaves for a nature project and then sat on the rocky edge of a shallow pond looking for fish and bugs.
Reston has 15 different pools including one at Glade Park with a 20-foot slide and the one at North Shore with an ADA ramp to pool decks and an ADA hydraulic chair into the main pool.
Reston is home to 52 tennis courts, ball fields, multipurpose courts and even Pickleball at the Colts Neck recreation area outdoor courts. If biking is a passion, Reston has 55 miles of paved and natural surface paths. RA notes that all trails are multi-use.
With a Community Center at Lake Anne, one at Hunters Woods Village Center (Reston Community Center) and another on Pinecrest Road (South Gate Community Center), there is as RA states, "something for everyone."