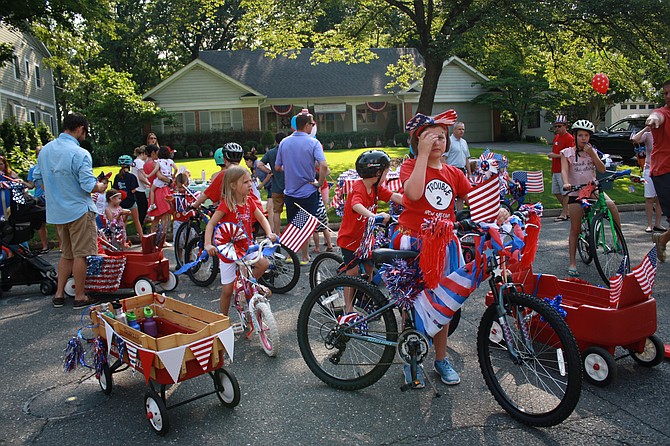 Mount Vernon — Neighborhood demographics were right this year, so the Marlan Forest neighborhood broke out the red, white and blue and put together its first annual
Independence Day parade on the morning of July 4.
"All these young families moved in," said Hallie Hays, one of the parade organizers who sent out flyers and posted a few sandwich boards around the community, which is right off Fort Hunt Road in Mount Vernon.
Leah Malone was there with her five children. "It's actually a close knight neighborhood," Malone said.
Peter Squire just moved in a week ago, and liked the sense of community here. "This is really nice," he said.
On Admiral Drive, tables were set out and covered with patriotic tablecloths and food, and everyone paused for the Pledge of Allegiance before a couple of decorated cars led the pack of bicycles, parents pulling wagons and youngsters on scooters. Jack Santillo, 9, was dressed like the Statue of Liberty. "My mom suggested it, so I agreed," he said of his costume.
Colette Von Schaumburg got her brothers together and some friends, and decorated bikes in her garage. "We used everything we had," she said.
To see the parade slideshow, click here.