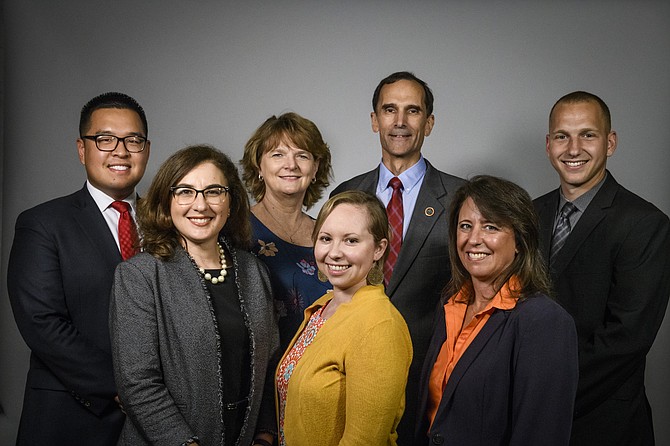 Highlights
Money for Route 1 widening, and bus rapid transit.
Board of Supervisors' approval of amendments to the Comprehensive Plan to enable revitalization of the Route 1 Corridor.
Formation of a Strategic Economic Development Advisory Team for Mount Vernon and Lee Districts.
Upcoming Events
Mount Vernon Nights, Friday and Saturday, Grist Mill
National Nights Out, Aug. 7, various locations
Workhouse Brewfest, Aug. 4, Workhouse Arts Center
MVHS Master Plan Outreach, September/October, MVHS
In a recent interview, Mount Vernon District Supervisor Dan Storck details his accomplishments and future challenges after completing his first two and a half years in office.
He expresses confidence that his successes will result in the transformation of Mount Vernon's image from one of a struggle to solve long standing transportation and development problems to one of significant progress.
Citing what he believes made a major difference, Storck points to his success in achieving "financial leverage" that has launched significant progress toward transportation improvements in the Route 1 corridor. Coupled with that success was the approval of the Embark Comprehensive Plan Amendments by the Board of Supervisors that set the stage for redevelopment of the corridor and revitalization of the Richmond Highway.
"With the money in place and the Comprehensive Plan amendments approved, we are now bringing new economic development through private and public investments to our district," Storck said.
"Also, working with Lee District Supervisor Jeff McKay, we have formed a Strategic Economic Development Team to bring together key individuals and organizations to drive revitalization and growth in the region. Innovation, creativity, transit friendly, environmentally conscious projects commensurate to development goals for the 21st century are now underway."
THE FINANCIAL HIGHLIGHTS include Richmond Highway NVTA funding:
$127 million for widening of Richmond Highway to six lanes; from Mount Vernon Highway to Napper Road;
$250 million to fund the Richmond Highway Bus Rapid Transit (BRT); and
$12 million to match Virginia Department of Transportation (VDOT) and Department of Rail and Public Transportation (DRPT) funds to replace the Richmond Highway underpass below the CSX Railroad from Lorton to Woodbridge.
"The above financial approvals mean that overall funding for Richmond Highway is 75 percent approved for the widening, and 50 percent approved for funding the Bus Rapid Transit system," Storck said.
Storck was pleased with, as he put it, the success in achieving "financial leverage" which he had a key role in achieving. Coupled with the realization of money for the transportation system which has been slow in becoming a reality until now, final approval of the changes in the Comprehensive Plan by the Planning Commission and the Board of Supervisors means that the transportation projects can proceed without further delay.
Storck's many years as a member of the School Board prior to being elected supervisor gave him substantial community engagement and outreach experience. Several community leaders find him positive, engaged, working hard and willing to take on the tough issues.
"I have nothing but the utmost respect for Dan Storck and the job he has done as our supervisor. He is the model public servant and I do not know how he has time for all the activities and work he has as Mount Vernon supervisorv," said Mike Rioux, the Mount Vernon District representative to the Metropolitan Washington Airports Authority (MWAA) Reagan National Airport Community Working Group. "I know Dan is working hard along with our other elected officials on the Route 1 improvements and like all of us he is probably frustrated by how long it will take and the funding needed to improve the Route 1 corridor. He knows, as most citizens, do the huge benefit the Route 1 changes will have on our local economy. If he had one wish it would be that his efforts along with the others could make it happen much quicker."
Adding more perspective is Queenie Cox, president of the New Gum Springs Civic Association, saying, "Supervisor Storck does a good job of engaging the affected community. We appreciate that. However, I would like to see him more willing to engage the county staff on the tough issues we often face by being willing to apply stronger oversight of the staff, especially when they don't follow standard county policy."
Former Mount Vernon Planning Commissioner Earl Flanagan said, "Supervisor Storck has done a very good job of organizing his office and working hard to get on top of the many 'hot' planning and development issues which he inherited. Former Supervisor Gerry Hyland laid the groundwork for much of what is now taking place in the transportation and economic development field in Mount Vernon. Supervisor Storck I believe is following up on the development of Mount Vernon and equal to the many challenging development issues he is faced with as he moves into the second half of his first term of office.
"The one thing I believe where there is room for some improvement is he needs to be more sensitive to the long-term needs of the local community and to make sure that their views and those of the community at large are adequately taken into consideration before he takes a position. I believe he is moving in the right direction and I am confident he is aware of this issue and is working to improve his sensitivity to the complex issues which come before him," Flanagan said.
Cathy Ledec, tree commissioner for the Mount Vernon District, said, "Dan has worked hard to establish effective partnerships in the Mount Vernon District. He really respects those who bring technical knowledge and he works to include that knowledge in his decision-making. The EMBARK Comprehensive Plan Amendment is a good example of his leadership where he brought the community together around the future of the Richmond Highway Corridor. This produced a robust plan that showcases the diversity of our community. Going forward, I would like to see more attention to the need for natural areas, green spaces, and parks to support a healthy environment and lifestyle for residents. We need more of this."
Katherine Ward, long time community leader and former co-chair of the Mount Vernon Council of Citizens Associations, said, "I have been very pleased to work with Supervisor Storck ... he has taken the long view of revitalization and embraced the vision designed by the citizens through the EMBARK process to revitalize the Richmond Highway. It will be a pleasure to continue to work with him and his creative staff in the future."
Storck also discussed other issues facing the community.
Fairfax County's Opioid Task Force Report illustrates the increase in abuse of illicit drugs as well as prescription drug abuse. Storck said he stands ready to support what the Board of Supervisors and School Board wants to do to combat the trend, in the schools and throughout the community.
"This is no longer a low income problem ... it affects all age groups and income levels," Storck said. "The prescription drug accessibility issue complicates the problem and we need the active participation of all elements of our society and in particular pharmaceutical companies to curb the growth in use. I support more effective enforcement of the use of prescription drugs and illicit drugs of abuse at all levels."
In terms of affordable housing for low and moderate income people and senior affordable housing, Storck said supports addressing the shortage of affordable housing issue. He cited several building projects in Mount Vernon and Lorton that are planned or underway that will help expand affordable housing accessibility.
What is he doing to slow the growth rate in property taxes? It is a major source of revenue for the growing school system as well as for revenue needs for the Board of Supervisors.
STORCK replied that other sources of funding are needed besides property taxes to help the county meet revenue demands. One source of help was his desire to see more of Fairfax County taxes returned to the county. "Right now we only receive 23 cents on the dollar sent to the state and we should receive a higher percentage." he said. "In order to be sustainable, an urban county like Fairfax needs to be able to access the number 1 source of revenue generated in our wealthy county. We need to get our fair share of county contributed income taxes back from the Commonwealth."
He also discussed the redevelopment of the former Mount Vernon High School. The county has hired a contractor to assist in the planning and development of the land and revising the use and configuration of the building to realize a community building that will serve multiple needs for the district and region. Progress is already being realized in the use of the building for recreational purposes. Storck has appointed a steering committee which will monitor progress, reach out to the community for ideas, and will continue to communicate with Storck , McKay, and county staff.
"This project will have a dramatic impact on the scope and character of the Route 1 corridor and beyond in recreation, business development, community services, child care, higher education, the arts, nonprofit organization opportunities, convening community meetings etc. etc. I am excited by the prospects and plan to continue to emphasize this as one of my highest priority efforts now and in the coming years."
Concerning the Workhouse Arts Center in Lorton, Storck said, "I am very pleased to say that this project, at first subject to assistance by the county, is now financially independent and the future is very positive."