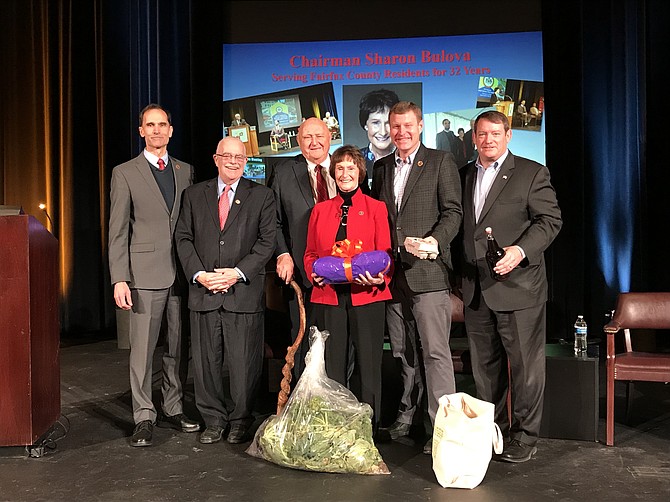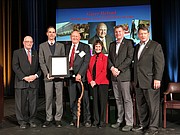 Residents and area officials gathered Saturday morning, Feb. 2, for the Mount Vernon District "Town Meeting," hosted by Mount Vernon District Supervisor Dan Storck at Mount Vernon High School.
As in previous years, the event started early in the cafeteria with area businesses and county agencies passing out information, before everyone went to the auditorium for Storck's "State of Mount Vernon," speech. This year they were treated to the music of the Harmony Heritage Singers, special presentations to former Mount Vernon District Supervisor Gerry Hyland and outgoing Board of Supervisors Chairman Sharon Bulova, and a flag-waving tribute to Federal employees and contractors.
The morning was rounded out with remarks from local leaders on the State of Mount Vernon, economic development and revitalization of the Richmond Highway Corridor and updates on District schools and Fort Belvoir.
Storck spoke about his vision for improving the quality of life for Mount Vernon residents, while outlining 2018 District accomplishments and highlighting the importance of the $1 billion-plus investment coming to the Richmond Highway Corridor and the economic and community revitalization it would bring.

Bulova encouraged residents to get involved in community engagement opportunities that will shape the future of the district and the county.
Other speakers included County Executive Bryan Hill, Mount Vernon District School Board Member and Board Chair Karen Corbett Sanders, and Fort Belvoir Garrison Commander Colonel Michael Greenberg.
U.S. Rep. Gerry Connolly (D-10) and U.S Rep. Don Beyer (D-8)addressed the audience regarding Federal Government issues.
For the finale, Storck guided the audience on a virtual tour of the District, highlighting changes ranging from the fully functioning Huntington Levee and transportation improvements to the Original Mount Vernon High School master planning process and the transformation of the former Lorton prison.
"As we continue our journey 2019, I am inspired and energized by the enthusiasm, engagement and commitment of our community members which is the strength of the Mount Vernon District," said Storck as the event concluded. "Together, we have accomplished a lot and will accomplish more as we grow the Mount Vernon spirit and our connectivity."
Replays of the meeting are scheduled for the following dates:
Sunday, Feb. 10 at 8 p.m.

Saturday, Feb. 16 at 8 p.m.

Monday, Feb. 25 at 8 p.m.
on Channel 16 at www.fairfaxcounty.gov/cableconsumer/channel-16/mount-vernons-32nd-annual-town-meeting.