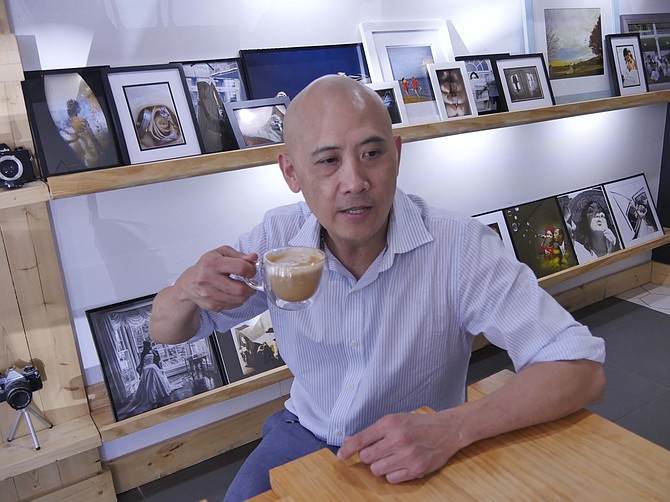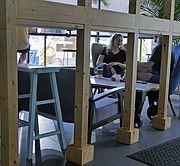 Fresh mango frappé and crispy rice cakes? Daniel Bui, owner of Chill Zone on Harrison Street says, "Mango is our most popular frappé. We use fresh mangos; everything here is fresh, organic."
And he points around the room. "The pan-fried rice cake is very popular. You see every table has it. It tastes good — made with rice flour and then fry it, very crunchy." It is served with "our special sauce." Bui says this is a family business and his mother-in-law created the food. "She cooked in Vietnam." But the recipe for the special sauce will have to remain a mystery. "She only speaks Vietnamese."
The small, square rice cakes are served on eggs scrambled with green onions and accompanied with shredded papaya salad with sriracha sauce if you like something hot.
Bui sits at one of the tables that were designed and constructed by his brother. He says, "We have a different way here. We like to make it an atmosphere people like." So he points to the four low tables where students huddle around a computer as they sit on the floor. "That feels like home." He points to bar stools by the window, and there is a place for couples. "It's a small space so people can choose where they feel comfortable."

And he says their slogan is "back to the basics." No TV, no traditional pictures on the wall. "Everything we created ourselves." He points to original artwork on the wall. "We collected bark in the forest and put together the collage hanging over the space in the front. "Some different by family and friends, all original." In the corner by the condiments a tall, translucent vase strung with sparkling lights makes another artistic statement.

Bui came to America from Saigon in 1990. He has been a wedding photographer for 30 years, and wedding pictures cover one wall of Chill Zone. "But I thought maybe I get old and can't hold a camera anymore and I ought to have something else." Also he views coffee as something artistic. "Yah, I like services and that's why I have additional styles of coffee." He sits drinking a flat white but says the Vietnamese coffee is very popular. Vietnamese people drink it all day. The murky cold drink is made with two shots of espresso plus condensed milk and organic whole milk. The ratio gives the desired sweetness for each customer.
Everything is organic.
The rent is high so he thinks that scared off customers in the beginning because he had to charge a little more. He explains they didn't understand that the strawberries are fresh every day, the tea is green Japanese mateha and the barista selects local beans from Maryland and D.C.

He says it was difficult in the beginning when they started the business in February 2017 because people weren't used to them in that location. Chill Zone replaced Mom's Macaroons, a long-standing business, in a small corner spot. "People would park outside and keep looking. What's in there? They didn't want to try something new." He said they also faced the challenge of name recognition. "We're a family-run business, not a big franchise that is already famous. It took people a while." He says his wife, Yen, works in Chill Zone and his daughters help out there.
The menu offers a small selection of "Bites" including chicken or beef Banh Mi. "This is beef — she make it special — I can't tell you how — with sliced cucumbers and special sauce." They also have party wings. "They are very different wings. When you try them here, you don't want to have them anywhere else. Children love the wings."

Since the restaurant is close to Yorktown High School, students often drop by on their way home. Today two women sit on chairs having coffee while several other customers discuss business at a back table and a man sits at the window reading a newspaper.
This is the first of a series on immigrant-run businesses in Arlington.