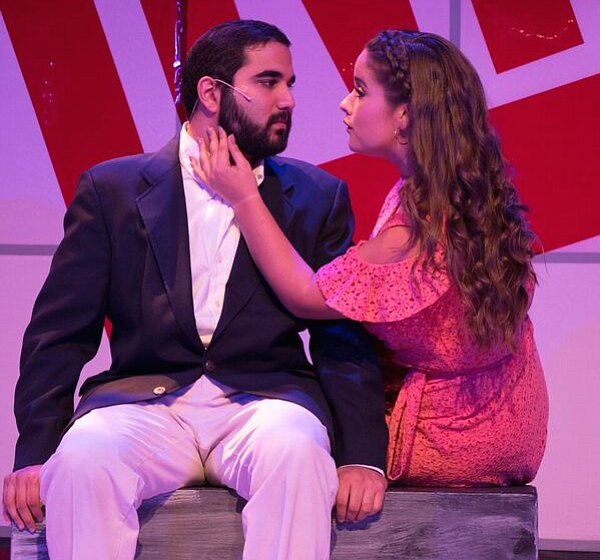 Set during the present day using cell phones and iPads in an office space called INRI, Inc., the Little Theatre of Alexandria (LTA) is kicking off its 2018-2019 season with the rock opera, "Jesus Christ Superstar," from July 21 to Aug. 11. With music by Andrew Lloyd Webber and lyrics by Tim Rice (and practically no spoken dialogue), this musical is a timeless work set against the backdrop of a universally-known series of events.
"This story or the musical version has been with me since I bought the concept album in 1970. The ideas of this production were to remove it from a Biblical setting and move it to a modern telling. The result is a corporate open concept office," said Director Jim Howard, who was one of the three producers. The other producers are Margaret Evans-Joyce and Robert Kraus with choreography by Michael Page.
Howard said the challenge was to get a good team of designers behind him to bring this musical to life. "Since I've worked with many of the design team that signed up they stayed on board to assist me. My producers are the best for keeping the team in place and helping me through this process. The second challenge is to pick a cast. I've got to give kudos to my musical director Chris Tomasino and choreographer Michael Page in the process of picking a cast," he said.
Rishabh Bajekal plays the title role of Jesus of Nazareth, but he's not really the same Jesus in the Bible, he says. "In this show Jesus is written as perpetually frustrated and overwhelmed by the role he plays in God's grand plan. These emotions build until he confronts God and, as a result, accepts his fate and the fact that he must die. Jesus has a full range of emotions from song to song and scene to scene," he said.
He said the thing that challenged him the most about this character is the same thing that excited him the most: the acting. "I consider myself a singer first, and this acting-intensive role has really made me stretch myself and grow as an actor," he said. "I've really enjoyed figuring out how to interact with castmates in character. It's been a challenge to fully embody the character, though, because portraying the emotional and physical pain Jesus goes through, particularly in the second act, definitely takes a toll. This character is totally different than I am as a person, but I'm excited to stretch myself and give a nuanced performance."
Carlos Antonio Ramirez is playing the role of the conflicted Judas Iscariot. "In the traditional contexts he is seen as a full-hearted villain, a man dedicated to sabotaging Jesus and his goals; 'Superstar' takes a different angle. My favorite aspect of 'JCS' is that it aims to humanize the characters we see in the Bible, so Judas is not portrayed as a villain but more so a tragic antihero that fears that the followers of Jesus are growing too fast, which causes him to fear that the high priests will eventually use violence to dismantle this new sect. This fear eventually causes Judas to betray Jesus; in his eyes he is sacrificing Jesus so that his followers may live on," he said.
He said his biggest challenge was the vocal lines. "It is as though while writing the play Sir Webber said to himself, 'Hey, what's the highest notes your average male singer can hit? Oh great, so let's take all of those and split them between Jesus and Judas.' Thankfully, our music director Chris (Tomasino) has helped us really learn to have far better control in a part of our voices that isn't frequently used, and I can honestly say that whatever bar is set in the audience's' mind will be met," he said.
Michael Gale is playing the role of Peter the Apostle. "He begins the show as one Jesus's main advocates and supporters, but his doubts and fears around what Jesus and his movement have become is a source of conflict as the show progresses," he said.
He added: "'JCS' is a collection of songs — there aren't lines or even stage directions, so it's up to the director and actors to connect the dots. It is exciting, but also overwhelming at times, to be given that much flexibility and responsibility. Peter has two songs in the second act, which represent the climax of his story arc, but there is a lot for me to work out as an actor around how I build up to those moments and how they resolve."
Cody Boehm is playing the male role of Simon Zealots, who is Jesus's right-hand man and confidant. "He wants nothing more than for Jesus to succeed in life and stands by him no matter the consequences. Simon is the epitome of a true friend," she said.
She added: "Playing a role that was written for man has been challenging. Vocally everything's written in the wrong octave for a woman, so figuring out how to navigate that and put my own spin on it has definitely been trying at times," she said.
The Little Theatre of Alexandria is presenting "Jesus Christ Superstar" now through Aug. 11. Show times are Wednesdays through Saturdays at 8 p.m.; Sundays at 3 p.m. Tickets are $29-$34. The venue is located at 600 Wolfe Street, Alexandria. Call the box office at 703-683-0496 or visit www.thelittletheatre.com.