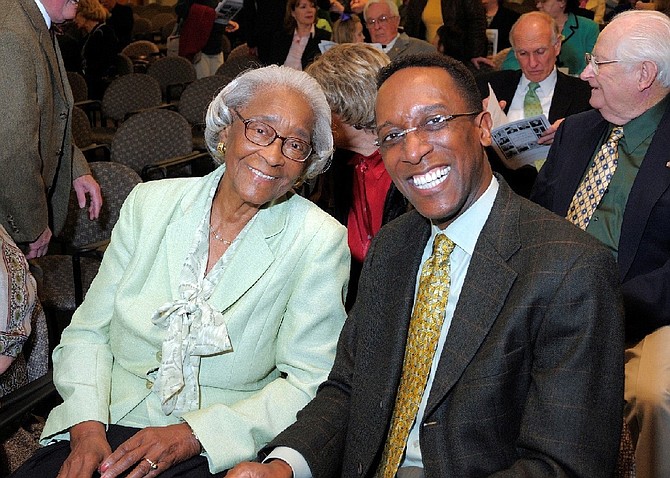 "[Col. Underwood] seemed unfazed by her accomplishments and viewed her extraordinary life as just doing what needed to be done." —USAF Col. Jane Hess Collins (ret.)
It was 1943 when Ethel Underwood saw one of the now iconic "Uncle Sam Wants You" posters used by the Army to recruit young men and women during World Wars I and II. Newly graduated from high school, Underwood decided to enlist in the Women's Army Corps, beginning a career that would see her become one of the most decorated women in U.S. military history.
Underwood, the first African American woman to achieve the rank of colonel in the United States Air Force Reserves, enlisted at a time when the military was still segregated. She later served as an officer during the early days of desegregation.
"As an African American, I know I was a pioneer," Underwood wrote in her profile at the Women in Military Service to America Memorial. "But in spite of roadblocks and deterrents, I was able to contribute and establish standards and road maps that paved the way for women that have followed. To serve with these kind of limitations and yet excel is indeed an achievement, whether acknowledged or not."
Underwood's career would take her around the world, with a final assignment bringing the trailblazing woman to Alexandria in 1979, where she remained until her death July 19 at the age of 93.
"Colonel Underwood inspired me from the moment she opened her door," said Jane Hess Collins, herself a retired USAF colonel who profiled Underwood in 2017 for Living Legends of Alexandria. "She was welcoming, gracious and no-nonsense. In anticipation of her interview she had military documents, newspaper articles and other information already laid out on her coffee table. As she told me the story of her life, of listening to Dr. Martin Luther King's 'I Had a Dream' speech to her list of 'firsts,' she seemed unfazed by her accomplishments and viewed her extraordinary life as just doing what needed to be done."
Born in Hampton, S.C., and raised in Beaufort, Underwood was the youngest of three sisters and a brother. She was raised by her mother Bessie and grandmother Clara after her father died when she was a baby.
Underwood served during World War II from 1943 to 1946 as an emergency medical technician with the Women's Army Corp then used her GI Bill to become a nurse. She held a B.S. in Nursing Education and a Masters in Public Health Administration from Columbia University.
Following her graduation, she re-entered the military in 1952, this time as a commissioned officer with the United States Air Force Nurse Corps. Trained as a flight nurse, she was assigned to RAF Wethersfield, United Kingdom and was part of flight crews that travelled between Europe and the United States.
Underwood served another 33 years, both in active and reserve status, before retiring in 1985.
"I liked the military style," she told Collins. "It was for me."
After retirement from the military, Underwood became the director of nursing at Alexandria's Woodbine Nursing and Convalescent Center, retiring from there in 1989.
She served for many years on Alexandria's Commission on Aging and was active in developing the Alexandria Residential Care Home, a 10-bed residential facility that served the elderly population of the city.
According to Collins, one of Underwood's life highlights was attending Dr. Martin Luther King's "I Have a Dream" speech in August of 1963, on the steps of the Lincoln Memorial. Underwood and a group of friends, all living in New York, took the train to Washington, D.C. to join the historic event.
"It was such an experience," Underwood told Collins. "The words got to you and you had to be careful because you could tear up very easily."
Underwood was part of a founding group of the Alexandria Black History Museum and established their volunteer program. She has also served on boards for Inova Alexandria Hospital, Hopkins House, the Alexandria Society for the Preservation of Black Heritage and Living Legends of Alexandria.
She also served on the executive committee of the NAACP, was a delegate to the White House Conference on Aging, a founding member of the Women in Voluntary Service to America Memorial, a charter member of the National World War II Museum and a founding sponsor of the Dr. Martin Luther King, Jr. Memorial.
In March of 2006, the Virginia legislature honored Underwood with House Joint Resolution No. 488, commending her recognition by Senior Services of Alexandria during its "Honoring the Best" Spring Gala. The resolution listed Underwood's other post-military recognitions, including the NAACP's Community Service Award, AARP's Volunteer of the Year award, the Alexandria Convention and Visitors Bureau's Volunteer of the Year award, the Alfred Street Baptist Church Volunteer Service award, the Northern Virginia Urban League's Community Service Award, the Florence Price Community Service Award, the Alexandria Commission on Aging's Excellence in Aging award and the Commission for Women's Marguerite Payez Leadership Award.
In accepting the accolades in 2006, Underwood said, "I'm still a little awed when I'm honored for doing the things I have enjoyed doing. Credit has never been and, will hopefully, never be, a monitoring factor for me."
A visitation will be held July 26 at 10 a.m. at Alfred Street Baptist Church, 301 S. Alfred St., followed by a memorial service at 11 a.m.