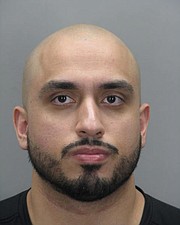 Fairfax County police have apprehended the man they believe is responsible for a series of robberies in Centreville and the City of Fairfax. He is Youssif Aziz, 27, of Centreville. He was arrested May 4 and charged that day and on May 17 in connection with the following robberies committed in 2017:
June 8 – Advance America, a check-cashing/payday-loan business in the Centreville Square Shopping Center in Centreville;

June 9 – TD Bank, 9500 block of Main Street in the City of Fairfax;

June 17 – TD Bank, 6200 block of Multiplex Drive in Centreville's Centre Ridge community.
According to police, the day after the robbery at Advance America, City of Fairfax police responded to a robbery, June 9, 2017, shortly after 3:30 p.m., at the TD Bank on Main Street. Police said a man entered the bank, demanded money and fled with an undisclosed amount of cash.
Eight days later, Fairfax County police responded to a similar robbery at another TD Bank. This one happened June 17, 2017, around 12:45 p.m., in Centre Ridge. No one was hurt in either incident. However, after the three robberies, detectives in both the Sully District Police Station and the City of Fairfax Police Department teamed up to identify and find the perpetrator.
The suspect was described as white, possibly Hispanic or of Middle Eastern descent, in his 20s, between 5 feet 5 inches and 5 feet 9 inches tall, and 140 pounds. Police were also able to obtain bank surveillance photos of him. And now, after almost a year has passed, police believe they have the robber in custody. Aziz is currently being held without bond in the county's Adult Detention Center and has a June 19 court date.
Furthermore, detectives believe he may also be linked to other robberies in the area. So if anyone has any information that might connect Aziz to other crimes, they're urged to contact Fairfax County's Major Crimes Bureau at 703-246-7800.
Tips may also be submitted anonymously through Crime Solvers via http://www.fairfaxcrimesolvers.org or by calling 1-866-411-TIPS. People may also text "TIP187," plus a message, to CRIMES (274637). Text STOP to 274637 to cancel, or HELP to 274637 for help. Anonymous tipsters are eligible for cash rewards of $100 to $1,000 if their information leads to an arrest.