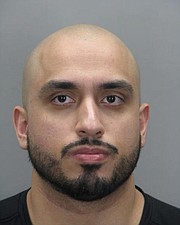 A Centreville man is facing the possibility of several years in prison after pleading guilty to two robberies. He is Youssif Aziz, 27; and although he committed these crimes in June 2017, he wasn't apprehended until this past spring.
Fairfax County police arrested him May 4 and subsequently charged him with a trio of 2017 robberies:
June 8 – Advance America, a check-cashing/payday-loan business in the Centreville Square Shopping Center in Centreville;

June 9 – TD Bank, 9500 block of Main Street in the City of Fairfax;

June 17 – TD Bank, 6200 block of Multiplex Drive in Centreville's Centre Ridge community.
Aziz appeared Sept. 12 in General District Court and, at that time, his robbery charges for the June 8 and June 17 offenses were certified to the grand jury, which indicted him on them on Sept. 17. The charge for the June 9 offense was dropped in exchange for his promise to plead guilty to the two other crimes.
And he did just that, Nov. 8, in Circuit Court before Judge David Oblon. Aziz told the judge that, although he works in information technology, he has an associate degree in criminal justice. Before accepting his guilty pleas, Oblon asked him some questions.
"Are you pleading guilty freely and voluntarily and because your are, in fact, guilty of these charges?" asked the judge. "Yes, Your Honor," replied Aziz.
"Do you understand that, by pleading guilty, you give up your right to a trial by jury and to defend yourself [in court]?" asked Oblon. Again, Aziz answered affirmatively. The judge also made sure Aziz realized that the state sentencing range for robbery is five years to life in prison.
"And do you understand that the sentences for each count [of robbery] could run consecutively and that I could sentence you above or below these guidelines?" asked Oblon. Again, Aziz said he did.
Noting that the attorneys involved had made no agreement regarding Aziz's sentence, Oblon acknowledged that the commonwealth had agreed to "bring no further charges in these two cases and dropped another criminal charge" against the Centreville man. He then formally accepted Aziz's pleas, and then Assistant Commonwealth's Attorney Marin Hoplamazian presented what the prosecution's case would have been, had these matters gone to trial.
In the June 8, 2017 incident at Advance America, she said, the female teller was alone when Aziz entered the business. "The suspect carried a motorcycle helmet in his hand and placed it in the door to prop it open," said Hoplamazian. "He put on a black baseball cap and pulled up his hoodie to hide his face."
Then, she said, "He charged the counter and said, five or six times, 'Give me all the money.' He then opened and placed a black, folding knife on the counter and said, 'Don't play with me.' She gave him what was in the cash drawer, and he also asked for what was in the safe, but she said it was empty. He left with $243."
But, said Hoplamazian, "A plastic piece had fallen off [Aziz's] motorcycle helmet, and the DNA on it matched his. And cell-phone pings in the area were traced to his phone before the offense."
As for June 17, 2017 robbery at TD Bank, the victim was one of two tellers there at the time. She said Aziz "announced the robbery and said, 'Don't touch the alarm.' He pulled a knife from his pocket, placed it on the counter and said, 'Don't give me a dye pack.' He got $2,563.
In both robberies, the suspect was described as white, possibly Hispanic or of Middle Eastern descent, in his 20s, between 5 feet 5 inches and 5 feet 9 inches tall, and 140 pounds. Police were also able to obtain bank surveillance photos of him.
Hoplamazian said Aziz's description matched that of the suspect, and his cell phone was used in the area of the June 17 offense, before and after the robbery. Explaining the motive for his crimes, she said, "The suspect committed the robberies to pay off a significant gambling debt."
Defense attorney Peter Greenspun declined to respond to her in court, except to say, "We'll give substantial context" at sentencing. Oblon set Aziz's sentencing for Feb. 1 and ordered a pre-sentencing report be made on him. Until that date, he'll continue being held without bond in the county Adult Detention Center.