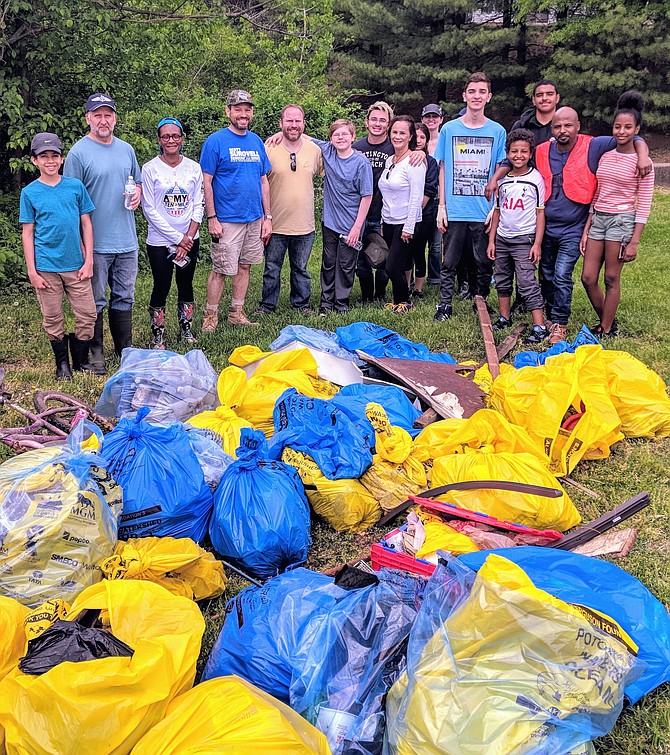 Earlier this month, state Sen. Scott Surovell (D-36) hosted his annual Little Hunting Creek Cleanup near U.S. 1 in Lee District. Dubbed "Fairfax County's Trashiest Stream" in 2007 by Fairfax County Government, the stream is a major collector of trash, litter, and foreign objects due to an outdated storm water system coupled with uncontrolled litter.
Little Hunting Creek's trashiest section runs through the Lee District area of Fairfax County in the U.S. 1 Corridor before it crosses U.S. 1 and passes George Washington's Mount Vernon Estate on its way to the Potomac River.
In coordination with the Friends of Little Hunting Creek, Surovell hosted two cleanup sites in the Hybla Valley area at Janna Lee Avenue Bridge and at the Mount Vernon Shopping Plaza behind the Shoppers Food Warehouse.
More than 35 volunteers turned out to collect over 2,000 pounds of trash in 123 bags. This adds up to over 12,000 pounds of trash collected since Surovell, the Friends of Little Hunting Creek, and the Alice Ferguson Foundation, began organizing the annual event seven years ago.
Volunteers collected primarily plastic beverages containers, discarded food containers, and plastic bags. This year's trove also included odd items including:
Four shopping carts (2 Walmart, 1 Costco, 1 Shoppers Food Warehouse)
Three bicycles and one tricycle
Five tires
Over 30 balls
Two children's vehicles
Two lawn chairs
One snow shovel
One baby stroller
One car battery
One radiator
Three computer monitors
Three yard signs
One $20 bill.
Volunteers also came upon animals including mallards, Canada geese, snakes, turtles, minnows, and a beaver swimming in the trash.

Volunteers included students from West Potomac and Mount Vernon High Schools and Carl Sandburg Middle School. Volunteers also came from Arlington and Prince William counties.
With the annual assistance of Robert O'Hanlon's Tree Service, cleanup volunteers were also able to extract four grocery carts, bringing the overall total to 216 shopping carts pulled from the creek bed in the past seven years.
"The shopping carts are especially disappointing given that I have repeatedly brought this issue to Wal-Mart's attention and they installed a cart control system. Unfortunately, the recovered carts were not equipped to function with their control system," Surovell said. "I also warned Costco about this problem before they built their store and asked them to install an electronic cart control system after Fairfax County refused to mandate it through a proffer and they refused, insisting that they had 'different customers' than Wal-Mart. This makes nearly 10 Costco carts we have removed since they opened."