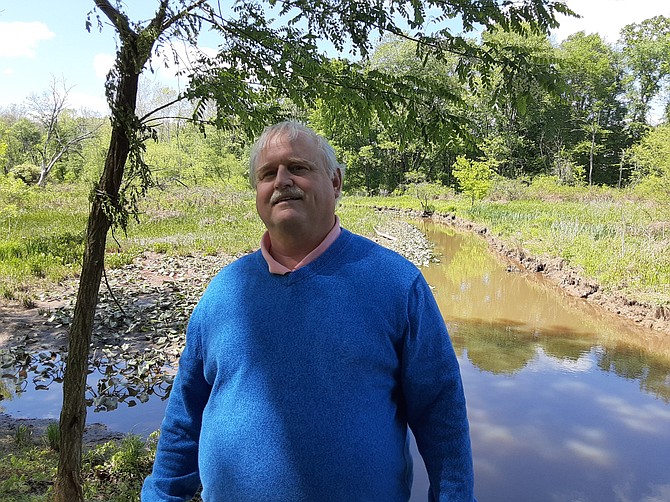 You name it, David Gahart has seen it float by in Little Hunting Creek in Mount Vernon. The creek runs along Gahart's backyard, and throughout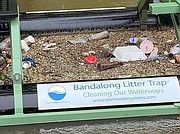 the 35 years he's lived along the creek, the trash floating through has amazed him. "Lots of soccer balls," he said. Along with the soccer balls are water bottles, oil drums, shopping carts, and just trash. "You name it, I've pulled it out," Gahart said.
He's done with wading through the mud though, and glad to hear about Fairfax County's latest experiment with the trash in Little Hunting Creek called the Bandalong Litter Trap.This is a floating device that collects floating trash and keeps it in screened traps and out of the water.
According to Fairfax County, Little Hunting Creek has a reputation for being trashiest. It flows around Richmond Highway and is joined by side streams from Huntley Meadows Park. In 2016, a watershed cleanup event led by the Friends of Little Hunting Creek collected 423 bags of trash, 29 tires, and 10 shopping carts. Although the litter trap won't do much good for shopping carts and discarded tires, surface trash such as water bottles and other floating debris should go right in the trap. Gahart is a member of the Friends of Little Hunting Creek group. "I'm glad they are doing it," he said of the project.
"The Bandalong is a proven, cost-effective solution for floatables control and is the answer to the growing problem of litter in our waterways," according to Storm Water Systems, the company behind the Bandalong Litter Trap, located in Cleveland, Georgia. The Bandalong Litter Trap is the ideal in-stream solution for floatables where combined sewer overflows are concerned. The Bandalong Litter Trap has been cleaning waterways in Australia and Asia for more than 18 years. The traps are also used in Waycross, Georgia, and Little Rock, Arkansas.
A few years ago, there was one installed in the Anacostia River in Prince George's County, and it helped to remove 170,628 pounds of trash from the watershed, according to Storm Water Systems.
Filling it up is not a problem, it's emptying it so it won't get clogged that can be a challenge, said the county. The recommended clean-out schedule they received from Storm Water Systems and from the operators of Bandalong installations on the Anacostia tributary and another in Mount Airy, MD are as follows: once a week inspection, clean out every other week, clean out after significant rain events and floods, clean out after holidays, and weekly clean out may be necessary during leaf drop in the fall, said Fairfax County spokesperson Matthew Kaiser. Fairfax County will see how that schedule works with their available manpower.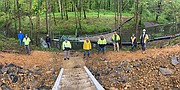 The pilot program will evaluate the effectiveness of the trap, the effort needed to maintain it, and the return on investment, the county said. The trap itself cost $104,500, and other project costs, such as design, permitting, site access, easements, and construction, totaled $587,000. Routine maintenance costs are estimated at $45,000 annually. The pilot project is funded by Stormwater Service District fees. Currently, no plans exist to install a second trap.
"Stream litter is a problem throughout the county, so there are plenty of candidates," for another litter trap if they want to extend the program, said Kaiser.
According to Kaiser, the county puts much effort into the trash problem but it's more than just a stormwater management issue. Capturing floating litter in streams only addresses a symptom, not the cause. Addressing the sources of litter requires a coordinated effort from all watershed stakeholders, including local and state governments, elected officials, business owners, nonprofit organizations, community groups, schools, and residents. Education, outreach, and broad support for environmental stewardship can help prevent trash from becoming litter in the first place.
"There are a lot of people/orgs involved in trying to prevent and reduce litter. County ecologists work with Fairfax County students. Solid Waste code compliance officers work with business and multi-family property owners to right-size their trash/recycling bins. Park Authority has watershed cleanup events. VDOT has the adopt-a-highway program. The list goes on and on," said Kaiser.
While the Bandalong won't catch shopping carts that can be particularly damaging in a stream, new legislation passed by this year's General Assembly might. Sen. Scott Surovell backed a bill that allows Fairfax and Arlington counties to pass local regulations to fine retailers for as much as $300 per wayward cart.
Little Hunting Creek is the site of many past clean up attempts by various citizen groups, Supervisor Dan Storck's office, and even the scouts, but somehow it still gets full of water bottles and household trash from upstream.