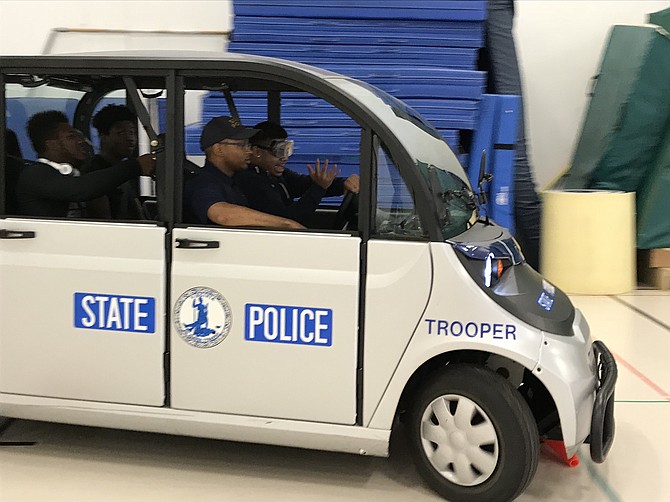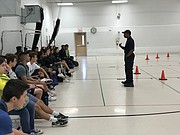 Twenty-nine years old is a young age to have back problems, isn't it? Virginia state trooper Anthony Johnson would argue the same. Having been hit by a distracted driver, he aims to teach children hands-on behind the wheel.
On May 30 and 31, South County High School conducted a driver's safety program to teach students how distracted driving can lead to dangerous consequences. Students drove through an obstacle course of narrow cones in a golf cart provided by the state police, wearing "drunk goggles," while their friends distracted them in the back seat with loud shrieking and music.
The program was sponsored by State Farm, who partnered with the Virginia State Police to help students develop the proper driving skills.
Health and physical education teacher Maureen Saale was the primary coordinator at South County for this event. She said the program is meaningful to her if one student considers what one person may think when trying to drive home from a party while intoxicated.
"All the classes have gone through the Drivers Ed classroom this year, so it's kind of an ending thing for them to see what they've learned from the classroom," Saale said. "With the beer goggles on, it's really simulating what the true effects could be on them."
One student, sophomore Joey Berndt, said it was difficult because he had issues with judgment.
"Your vision was distorted, and you weren't sure which way was which," Joey said. "This is actual hands-on experience and you can actually learn from that."
Trooper Johnson said the program was better than a classroom setting because students are able to engage with that's being taught. He reiterated that it's most meaningful to him if one student can take something significant out of this program and apply to decisions on his or her own accord.
"Once we get the students out of the classroom and we engage with them, they're more receptive to that," Johnson said. "They have fun and they joke around, but they take something from it."
Johnson said he get fulfillment out of the program because of his back issues after being hit by a distracted driver.
"I was hit by a distracted driver…I got rear-ended because a guy decided to look at his oil chain sticker and then his odometer and didn't see me," Johnson said. "I still suffer from back pain as a result of that. I'm 29 years old. I shouldn't have to worry about back pain because some guy decided not to pay attention and look at the road."
The program aims to expand to a greater number of schools in order to reach out to a greater number of students in an interactive way to learn safe driving behind the wheel.