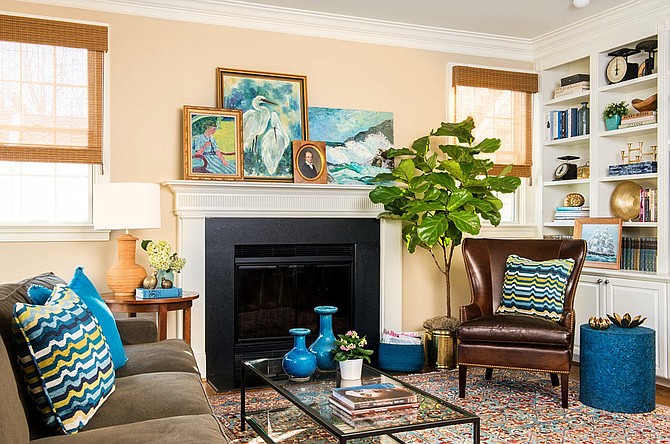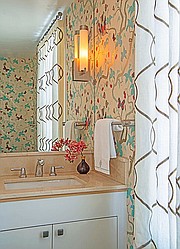 "Have a designated area in your home for wet towels and suits to be hung up to dry when returning home." — Susan Unger, Clutter SOS
When school ends and summer begins, a home's functionality can change. From backpacks overflowing with a school year's worth of school papers and art projects that need a home to bedrooms that call for a warm weather refresh, local designers suggest small tweaks to interior spaces that can yield a big impact.
From breezy white sheets to beach-themed accessories, summer calls for a lightening up of home decor, advises interior designer Anne Madden of Mount Vernon. "I always encourage clients to refresh their home decor during warmer months," she said. "Remove heavy bed linens that were meant to keep you cozy and replace them with light and airy linens in neutral or cool colors. This is also a good time to swap out throw pillows made from heavy fabrics like wool and incorporate pillows made from lighter fabrics like linen into your home's design."
In addition to changing bedroom accessories, summer is also good time to breathe new life into bathroom decor. "Take an inventory of your linen closet and replace towels that are worn and frayed with thick, fluffy ones," said Madden. "Make sure your shower curtain and liner are fresh and free of mildew. If they aren't, replace those too."
Corralling pool necessities into a designated space is a key to maintaining an organized home during the summer, advises professional organizer Susan Unger of Clutter SOS. "When preparing to head to the pool with your children, it's a real time saver to have an area in the laundry room, entry or garage where all the necessary items are kept and they don't need to gathered up each time," she said. "Keep a beach bag loaded with sunscreen, towels, snacks, toys and clothes. Perhaps each child could even have their own beach bag. Have a designated area in your home for wet towels and suits to be hung up to dry when returning home."
Create a space that is dedicated to summer crafts in a way that doesn't overtake a home's aesthetic, suggests Unger. "Having a separate crafts table for children is great or if space is an issue covering the kitchen table with a plastic tablecloth will work also," she said. "It also helpful to have a separate cart with plastic drawers or a small shelving unit with plastic bins to house craft items. I like plastic because it is washable."
Each drawer or bin can house items like paint, marker, crayons, coloring books or construction paper, continued Unger. "Put a printed label on each drawer or bin," she said. "I like to add a picture of the item as well which encourages younger children to start developing reading skills. They are then also able to match the item to the container when it comes to putting away the supplies. It is never to early to encourage cleaning after themselves.
The beginning of summer is a great time to sort through school papers and art projects collected thought out the year, says Unger. "As the parent, it will make it easier for your child if you do a presort and get rid of all the schedules, notices and worksheets before involving your child in the process," she said. "Then you both can decide on the special items to keep. I like to use a plastic file bin for each child and put each year's items in a hanging file with the grade on the file tab. This also creates a limited amount of space for the selected items to keep."
If you haven't already done so, schedule a maintenance service appointment for your HVAC system, suggests Maden. "It's better to spend the money now to make sure it's in good working order than to wait until breaks down during a heatwave and be at the mercy of overbooked repair companies," she said.