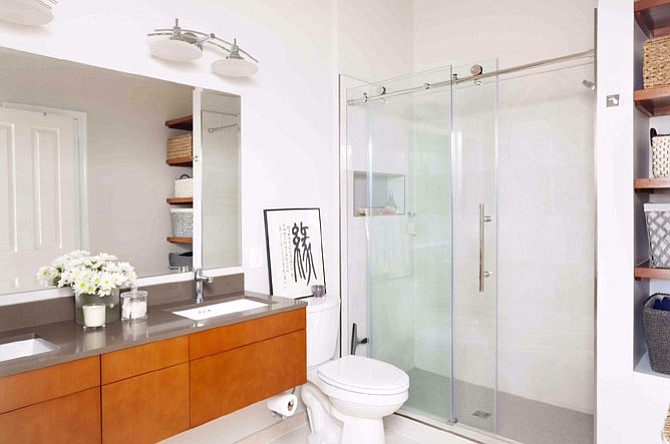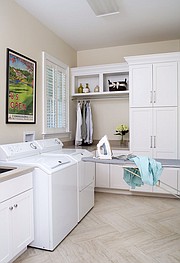 If retrieving an item from the top shelf of one's linen closet sets off an avalanche of mismatched sheets and tattered towels, it might be time for a linen closet reorganization. With a plan and a few tools, tackling the mess won't be a daunting task, say local organizers and designers.
To start, take inventory of existing linens and toiletries to determine storage needs, says Kelly Emerson, designer/showroom manager at Aidan Design. "Begin by organizing like items together," she said. "For example gather bedding and towel sets for specific rooms [like] the guest, master and kids rooms, in groupings so that they are easily identified. If you have the space, consider labeled bins to identify the rooms to which each set belongs."
"Consider custom built-ins where possible for a more de-centralized storage approach." — Kelly Emerson, designer/showroom manager at Aidan Design
Install an LED light inside the closet operated by an automatic switch, so that the light turns on when the door is opened, suggests Chuck Khiel, vice president of Fred Home Improvement, a division of Case. "Create multiple depth shelves, such as deeper shelves on the bottom, shallower shelves higher up," he said. "Deeper lower shelves will allow more efficient use of space."
Organize storage so the most frequently used items are most easily accessible. Allot extra space on upper shelves for seldom-used supplies, like extra blankets and pillows. "Dedicate a shelf to toiletries," said Emerson. "Group tall bottles together … and use trays or decorative baskets to organize smaller items."
"If one closet is used for multiple bathrooms, consider creating a dedicated shelf for each bathroom," added Kheil.
Devise a solution that is adjustable and flexible enough to handle future changes. "Consider custom built-ins where possible for a more de-centralized storage approach," said Emerson. "This allows for easy access to everyday items and takes some pressure off the main linen closet."
One final recommendation, for those with limited space, a clear over-the door shoe holder is a tool that professional organizer Susan Unger of ClutterSOS in Vienna advises, "It changes dead space — the back of the door — into a fabulous space [by] … holding toiletries. Unger and fellow organizer Lauri Mennel co-authored the book, "Fifty Shades of Organizing."