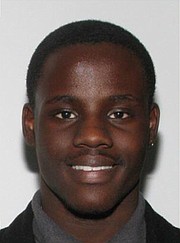 Fairfax High's seniors graduated last week, but 18-year-old Ishmael Harrison wasn't among them. Instead of wearing a cap and gown with his classmates, he was in a one-piece jumpsuit in the Fairfax County jail.
That's because, on Feb. 21, he sent out anonymous tweets threatening to harm Fairfax High students, school personnel and police, the following day. And although he didn't carry out his plans, he did scare an awful lot of people.
Harrison's actions also constituted a felony. And on Monday, June 11, in Circuit Court, he pleaded guilty to making threats to commit serious bodily harm to people on school property.
"Was it your decision today to plead guilty?" asked Judge Penney Azcarate. "And are you entering this plea because you are, in fact, guilty?" To both questions, Harrison answered affirmatively.
"Do you understand that the maximum punishment you can receive is up to five years incarceration?" she asked. Harrison replied, "Yes, ma'am."
Noting that – since Virginia has abolished parole – he'd have to serve 85 percent of any sentence she imposes, Azcarate warned him that no agreement has been made as to his sentencing. She then asked Harrison if he realizes that, by pleading guilty, he's giving up his right to appeal her sentence; and again, he answered, "Yes, ma'am."
Assistant Commonwealth's Attorney Greg Holt said that, on Feb. 21, around 3:45 p.m., Harrison sent the following tweets – (minus some profanity, but typed as they appeared) – from his cellphone while on school grounds:
"2/22/18 i am coming and no one can stop me, be prepared. I SWEAR ON MY DAMN LIFE I AM COMING AND THE COPS CAN GET IT TOO.
"I hate that damn school so much. i hate the people and all the students there. You guys suspended me for skipping. I have been planning this for months now and now i am going to act. Better watch out Fairfax."
Accompanying the tweets was a picture of an AR15 assault rifle, and Fairfax City police said they found 200 rounds of ammunition for an AR15 in Harrison's home when they executed a search warrant there on March 2. Police also discovered a video of Harrison doing target practice at a shooting range.
Students reading these tweets immediately told the school's police SRO (student resource officer), administration and their parents, and police began investigating. But the damage was done, and Harrison's chilling words struck fear in the school community.
"There were dozens of tweets in return," said Holt. "And 1,601 students were absent the following day." On Feb. 22, police also posted officers at all City schools.
On March 3, police identified Harrison as the person who'd sent the tweets. In addition, they provided his age, descriptions of both him and his car, and his license-plate number, to the public. They obtained arrest warrants for him, said he should be considered "armed and dangerous" and urged anyone seeing him or knowing where he was to contact them.
In a news release the next day, police asked Harrison to turn himself in; and on March 5, he did. He was then arrested and held without bond in the Adult Detention Center. Police also charged him with one count of possession of child pornography after allegedly finding pornographic images of a juvenile on his electronics.
Harrison appeared in General District Court on April 30 before Judge Susan Stoney and waived his right to a preliminary hearing. At that time, his pornography charge was dropped. But on May 21, he was indicted by the grand jury on the threat charge.
Monday morning, after hearing the evidence against him, Azcarate formally accepted his plea and found him guilty. She then ordered a presentencing report be made on Harrison and remanded him back to jail. She also set his sentencing for Aug. 17.