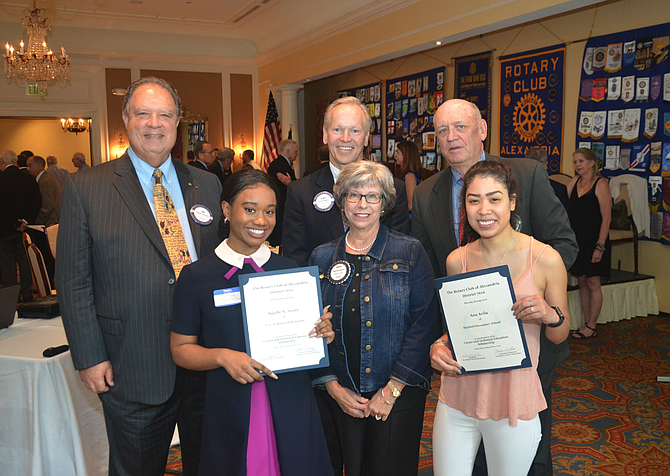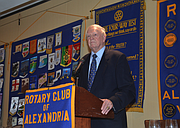 Navy Captain (Ret) Eugene "Red" McDaniel addressed the Rotary Club of Alexandria and the Alexandria Rotary Foundation's annual Rotary Scholarship Luncheon on June 4 at Belle Haven Country Club.
The program also honored the achievements of two local high school students and awarded them scholarships for their pending college experience.
McDaniel was a Naval Aviator on his 81st mission into Vietnam in 1967 when he was shot down by a surface to air missile. He survived the ejection from the A-6 Intruder he was piloting, but his navigator-bombardier, Lt. James Kelly Patterson, would never be found. What followed for McDaniel was imprisonment and six years of torture in the Hanoi Hilton.
McDaniel was strong in his faith, such that he became the de facto chaplain for the prisoners of the Hanoi Hilton. "Courage is not the absence of fear," McDaniel said. "It's the presence of faith. I clung to the one thing they could not destroy."
McDaniel was released from prison in North Vietnam in 1973. The Navy recognized his leadership and bravery by awarding him the Navy Cross. He returned to his family and remained with the Navy until his retirement in 1982. In those next several years he commanded the USS Niagara Falls and the USS Lexington, and served as director of Navy/Marine Corps Liaison to the House of Representatives.
The luncheon was attended by over 120 people, including the two winners of the 2018 Rotary Club of Alexandria Career and Technical Education Scholarship Awards. This program was created in 1991 as the Rotary Club's commitment to vocation. It encourages career and workforce development for or local, regional and national business communities. The scholarship recipients are Sajelle Avery and Ana Avila. Each recipient will receive a scholarship for $2,500 to use in their education.
Avery is a senior at T.C. Williams High School. She is a student in the Advanced Marketing program. She is a member of the National Honor Society, a member of DECA and currently is the president of the T.C. Fashion Club. Avery also participates in T.C.'s Track and Field program and is the captain of the Majorette Dance Team. In the fall, Avery will attend the Fashion Institute of Design and Merchandising in Los Angeles, Calif.
Avila plans to pursue a career in construction management. She attends Hayfield Secondary School where she has completed sequenced courses in the Architectural Drawing Program. She has been a participant in Hayfield's Architecture Construction and Engineering mentoring program for the past two years. She is also a member of the Spanish Honor Society and Hayfield's College Partnership Program. She has also maintained a 4.0 plus GPA at Hayfield. In the fall, Avila will be attending Virginia Tech to pursue her Bachelor's degree in Architecture and Construction Management.