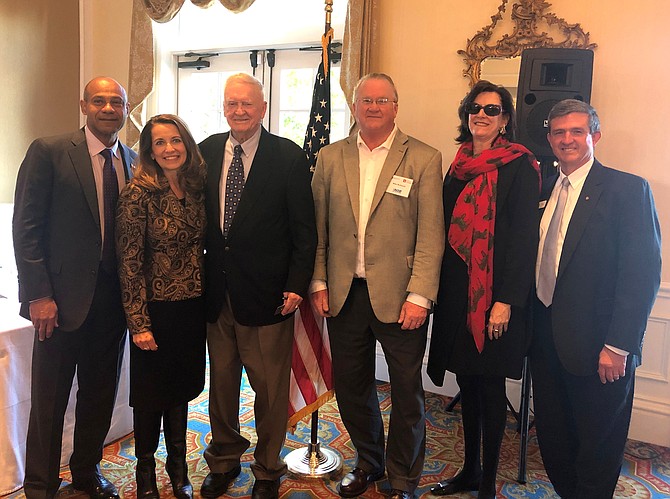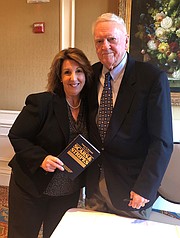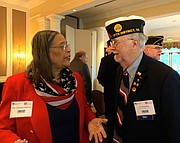 Captain Eugene "Red" McDaniel, a Vietnam veteran who survived six years as a POW in the infamous "Hanoi Hilton" prison camp, was the keynote speaker at the annual Alexandria Chamber of Commerce Salute to Veterans event Nov. 6 at Belle Haven Country Club.
Presented by the National Industries for the Blind, the event recognized businesses that support veterans in the community.
Recognized as Small Veteran Owned Business of the Year was The Garden by Building Momentum, a service-disabled veteran owned business. Large Veteran Owned Business of the Year was ProSphere and The Code of Support Foundation was recognized with the Empowering and Supporting Veterans Award.
Col. Kim Ching (ret), a veteran of World War II, Korea and Vietnam, was recognized as the 2019 Distinguished Patriot recipient but was unable to attend the event.
McDaniel, who was once described by Time Magazine as one of the most brutalized prisoners of war in Vietnam, spoke of the struggle to survive when "all but the breath of life has been taken from you."
"For three years my family never knew if I was dead or alive," said McDaniel, who described the unimaginable conditions that he and other POWs endured.
Following his release in 1973, McDaniel returned to Virginia, where he was awarded the Navy's highest award for bravery, the Navy Cross. McDaniel settled with his family in the Mount Vernon section of Alexandria and authored a book, "Scars and Stripes," recounting his time in captivity.
"People think courage is the absence of fear" said McDaniel, who received a prolonged standing ovation following his remarks. "But courage is the presence of faith."