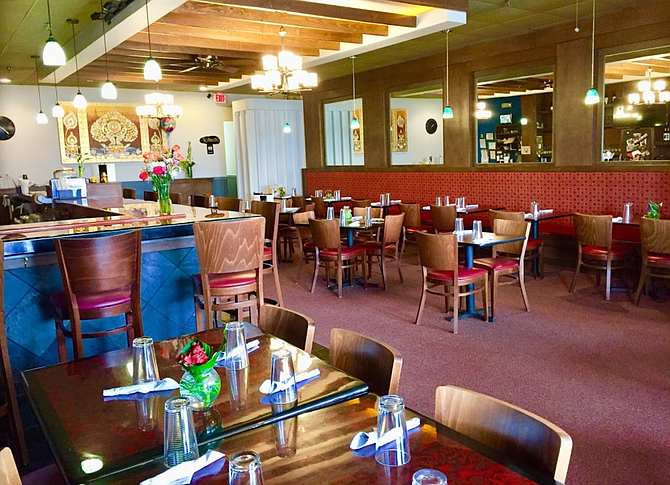 Years ago, locals could count the number of D.C.-area Thai restaurants in a few minutes—maybe 20 or maybe even 30. But those days have long since passed, as the number is likely closer to several hundred. The popularity of this Asian cuisine's sweet-hot-sour flavors has gained a vast following, with plenty of new places popping up constantly.
One of these is the relatively new Nunu's Thai Dishes in Herndon's former Kmart center with its array of restaurants and retail stores. Charming, chic, and offering plenty of authentic Thai dishes, this Thai place features a contemporary bar and seating area that attracts not only Thai food enthusiasts but patrons who like to hang out for drinks plus spicy eats. Note that Nunu, who runs Nunu's, is the brother of the owner of the popular old-timer across the street, Thai Luang.
But unlike his sister's more traditional setting and approach to Thai food, Nunu has set up a modern décor with a well-stocked bar area, and a small and well-lit dining space. Though small it must attract a steady crowd, so reservations may be an option.
Of course, knowledgeable foodies come to eat, and eat well they will. Depending on one's palate, you can check the menu listings for the tell-tale chili icon. That's management's way of saying the dish may be a bit hot. Before you head to the entrée selections, do not skip past the appetizers—even if all you really crave is a serving of pad Thai. Note that no appetizer has a chili icon, so if heat is not your thing, just order plenty of appetizers.
Must-haves include the fried calamari with their crunchy exterior and sweet-sour sauce alongside. Add to that either steamed or pan-fried dumplings, both of which come with a sweet chili soy sauce. And the very traditional Thai starter, the tod mun (or fish cakes) may seem somewhat exotic to Western tastes, but these are as tempting as Southern crab cakes.
Entrées can go any which way, from curries, to stir-fries, to noodles. Curry fans should consider the panang curry, a classic dish made with a special curry paste stirred into coconut milk. Add-ins include chicken, pork, tofu, or vegetables. Among the limited curry selections is the restaurant's special, and pricey, crispy duck and pineapple in a red curry sauce.
Assorted noodle and fried rice dishes may stand alone or accompany other entrées. And the house signature dishes include both curries, grilled chicken, and stir-fried shrimp or chicken. The kitchen also offers the Thai special, a crispy whole flounder with a choice of accompanying sauces.
Dessert choices are limited to the usual popular ones: mango with sticky rice (seasonal) sweet sticky rice, fried bananas, ice cream and a Thai custard. The lunch specials menu offers fewer options, but you surely can order off the main menu as most dishes are listed there with lunch and dinner options.
Nunu's Thai Dishes, 410 Elden St., Herndon, VA. 703-471-2000. Hours: Lunch and dinner daily.