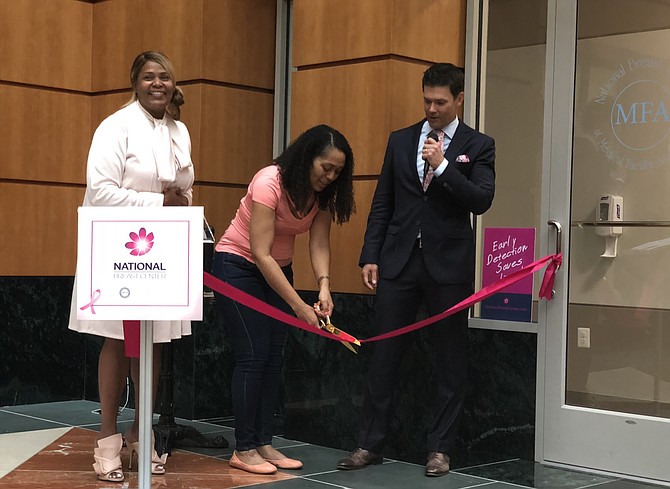 "Anyone who dies from breast cancer is underserved." — National Breast Center founder Dr. David Weintritt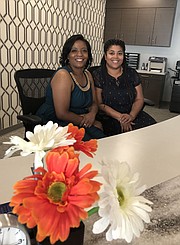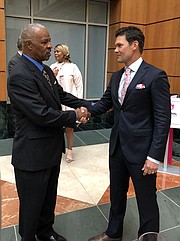 Four years ago, Cindy Stevens was diagnosed with a rare form of triple negative breast cancer. Doctors at Johns Hopkins and the Cleveland Clinic told her to get her affairs in order. But a friend recommended a specialist in Alexandria — Dr. David Weintritt — and on June 12, Stevens was sharing hugs and tears with other survivors as the National Breast Center opened its doors in Alexandria.
Weintritt founded the center in 2012. He recently partnered with GW Medical Faculty Associates and moved the facility to 227 S. Washington St. in Old Town, the site of the old Alexandria Hospital.
"I started the center and the foundation in hopes of making an impact," said Weintritt, who also founded the National Breast Center Foundation in 2014 to improve access to care and technology for breast screening and treatment. "Anyone who dies from breast cancer is underserved."
Weintritt, who served as a general surgeon in the Air Force at Andrews Air Force Base, opened his own practice in Alexandria in 2003. He began a program for sentinel node biopsy and was the first to bring partial breast radiation to the area.
Several of Weintritt's patients attended the opening and spoke of their experience with the center.
"When you go through this kind of ordeal, all you want is some hope," said Donita Sharp, a seven-year breast cancer survivor. "Dr. Weintritt gives us hope."
For Stevens, it was the attitude and care of Weintritt that made a difference for her.
"Through it all, day or night, he is accessible," Stevens said. "He told me that we only have today and to live my life as if the cancer will not come back. It's easy to have a positive attitude about life when you have a doctor like that."
In 2017, as director of the Inova Mount Vernon Breast Care Program, Weintritt was the first in the world to pioneer the use of the SPY Portable Handheld Imaging System in breast cancer treatments. Known as SPY-PHI, the device uses infrared fluorescence imaging to allow real-time measurement of tissue perfusion to reduce complications during breast reconstruction.
"I am thrilled to be a surgeon and blessed with the opportunities that technology provides today, particularly with genetics," said Weintritt. "Through the center I hope to continue to counsel and educate women. No one should die from breast cancer."
For more information, visit www.nationalbreastcenter.com.