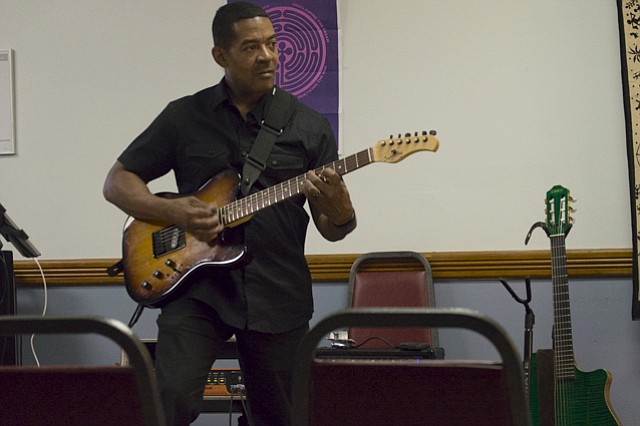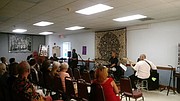 On a Sunday afternoon in Meade Memorial Episcopal Church, a jazz musician plays cover songs by Luther Vandross and Stevie Wonder.
"We've got to let the Alexandria, Arlington and D.C. public know that these awesome artists are here," said Janet Thomas, administrative assistant at Meade Memorial Episcopal Church.
For the last 11 years, the church has been hosting concerts as a way to connect people to the small church. Jazz at Meade, the name of the concert series, is held on the third Sundays of each month between April and December. The concerts are held between 4 and 6 p.m. as way to work with people's schedules as well as the musicians in case they have another engagement.
"What better way to bring people in, than go out in the community, and we go out in the community to spread the Gospel and also let folks know that people who love God, love music and jazz as well," said Thomas.
The purpose of the concerts is not to convert people into a religion but as a way to connect with members of the community.
"I have not seen the emphasis in trying to connect the people who come to jazz to church. I don't see the evangelist aspect in that pursuit," said The Very Rev. Collins E. Asonye, Rector of Meade Memorial Episcopal Church.
Joyce Ramsey, one of the church members who came up with the idea, thought it would be be a good way to connect with the community, while also to raise money for the church. Ramsey said she was not sure how members of the congregation would react to her idea.
"We needed to help the church financially and also as an outreach activity. We been able to do both very well I think," said Ramsey.
Having concerts at the church began long before Jazz at Meade began. Ramsey said there was something called jazz vespers. "Vespers means an evening service, so that would be jazz music played along with the regular service in the evening. I think they used to do that on Saturday night," said Ramsey
The concerts allow the church to continue the tradition of having local talent playing at the church. Ramsey said a lot of jazz musicians began their careers playing at Meade.
"This church has the tradition of jazz musicians in it and I think we grew from that," said Ramsey.
Ramsey is part of a committee at Meade that plans and arranges the jazz performances at the church. Cris Abad said that the committee starts planning after the last concert in December for the following year's jazz concert line-ups. Abad said they bring local talent and also local talent that has performed internationally.
"All the musicians that we book are local jazz musicians, artists that have international experience. They played all over the world, so they come with great credentials," said Abad.
Some of the people that they have brought included the Marshall Keys Group, L'Tanya Mari' Quartet, and Ronny Smith, a jazz guitarist.
The church finds most of their musicians from word of mouth or when some of the musicians are present at other events and ask about participating in one of the church's shows.
"We get new artists that find out about us and they ask who could they contact. Some of the artists are playing with an artist and will say 'I would like to bring a group in.' It is a good feeling," said Gloria Ward-Lewis.
Smith has been playing at Meade for the last three years and described the audience as being positive and responsive to the music being played.
Will Allen, a drummer playing with Smith, said he was excited to see the audience so engaged with the music. At the concerts many kinds of jazz are offered like traditional, smooth, Latin and African jazz.
Paul Blumstein from Annandale said he has been coming to concerts for eight years and he is never disappointed. He was first invited to attend by his neighbor.
Deborah Cason-Daniel said when she goes to the concerts she likes to feel surprised because she never knows who is performing.
"I invited a person who is from the Alexandria area, and during the concert when we took a break, she said to me that this is best-kept secret in Alexandria," Ramsey said.
Charles Cason said since they have been having these concerts, they have gained some members but have not lost any members. Even though the audience tends to be older, they have seen some youth come to their concerts.
"When a teacher comes, a number of his students come and that is fun," said Cason-Daniels.
Upcoming shows will be on July 15, Aug. 19, Sept. 16, Oct. 21 and Nov. 18 from 4 to 6 p.m. at Meade Memorial Episcopal Church, 322 N Alfred St.
"The goal is to have sell-out performances once a month," said Thomas.