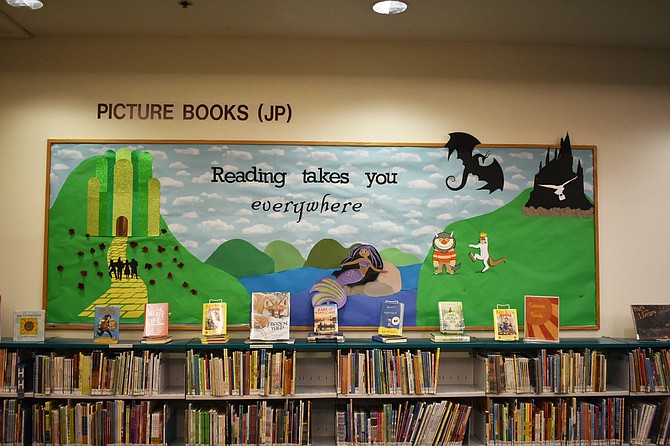 The room smells of popcorn, but it isn't a movie theater – it's a public library. Patrick Henry Library Youth Services Assistant Erin Guyer wears a tiara as she tidies the room after the summer's first family movie matinee.
"Today we had Beauty and the Beast," Guyer said. "The original – because I'm sorry, but Emma Watson is Hermione."
This summer, public libraries will put on a variety of programs for children, teens and adults that include movies, storytimes, music and animals in the library.
"It's to get the library seen as more of a community center," said Alicia Rocconi, Youth Services Manager at Patrick Henry Library. "It's another way to just get people in so they can become familiar with the library itself and not see it as so intimidating."
Though many events are directed at younger children, there is plenty of teen programming as well. The "Life Hacks Series" at Patrick Henry Library teaches teens skills that include meditation, interviewing, dating and personal safety. There will also be a Triassic World Escape Room at the end of the summer in which participants imagine they are in a "Jurassic Park"-like scenario and must find a sedative to calm the dinosaurs. There are different time slots for families and teens.
Guyer said these programs give teens the chance to experience the library in an atypical way.
"You don't think, 'Okay, I'm going to go eat Laffy Taffy, play board games and read manga in the library,'" Guyer said. "You wouldn't think about having to figure out how to calm dinosaurs in the library."
THE LIBRARIES also have a program called the Summer Reading Adventure to encourage reading outside school. Between June 15 and Sept. 1, children and teens can participate in the program to earn a coupon booklet as a prize. Babies through third graders must read or have read to them 15 books, fourth and fifth graders must read 10, and sixth through twelfth graders must read five theoretically longer books to earn the prize.
According to Rocconi, summer reading helps prevent the "summer slide," which is when kids lose skills over the summer, since school is not in session.
"There's such a long time that schools are off," Rocconi said. "[Reading] just kind of helps [kids] to keep their skills up… so that when they go back to school they don't have to relearn a little bit of what they learned last year."
This summer's reading program theme is "reading takes you everywhere." At the Oakton branch, that theme is seen through library decorations.
"When the kids come in to get their reading logs, they'll see the check-in station as if they were going to an airport," Oakton Branch Manager Lisa Kern said. "We have a play airport for the kids to also get them excited about the theme. We have pictures of different countries, postcards; we have our Oakton International Airport signs up."
OAKTON LIBRARY and Patrick Henry Library joined the Chantilly, City of Fairfax and Tysons-Pimmit regional libraries this summer in a library passport challenge – if children present their library passport at any of these five branches, then they will receive a stamp as though it were international travel. If a child earns all five stamps, they will be entered into a lottery for a prize.
Kern said her favorite part of the summer reading program is seeing the kids' excitement as they complete their reading logs.
"They get excited to sign up, they get excited to tell us what book they've been reading – they're just so proud," Kern said. "We love making a big deal with every single kid, because they're so happy, and so we're so happy."