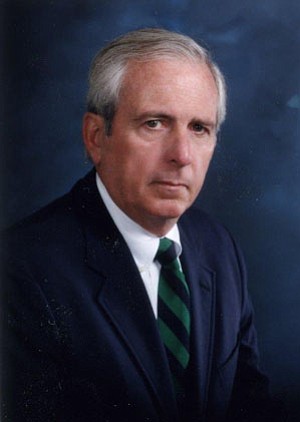 Mount Vernon — Michael K. "Mike" Bohn knew how to do just about everything. And according to one testimony after another at his memorial service last week, what he didn't know, he figured out.
Carter Bohn, Mike's oldest son, said, "What a remarkable person he was. He just knew how to do everything — and if he didn't, he figured it out. There is no end to the ways his background would manifest itself."
Bohn was diagnosed with an inoperable brain tumor in late February and died on June 1. The service, which was held at St. Luke's Episcopal Church, was packed with friends and relatives.
Bohn graduated from Texas Tech in 1965 and served in the U.S. Navy as an intelligence officer for more than 20 years.
He served in the White House as a White House social aide in the Nixon Administration and director of the White House Situation Room during the Reagan Administration.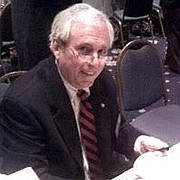 Stephen Pickard, fellow golfer and friend, spoke at the memorial service and said, "Mike was proud of his service. Mike's sense of honor and dignity went perfectly with the Navy. I can't tell you how deeply patriotic he was. He was a young man working in the situation room. He was chosen to be in a place at a very important time and able to serve them in very capable way."
Pickard said that because Bohn reached his pinnacle early in his life that he was always trying to duplicate this.
Although he worked as a defense contractor and ran a successful residential construction business after leaving the Navy, it was writing about his experience in his first book, "Nerve Center-Inside the White House Situation Room," that brought his early experiences full circle.
He went on to write other historical books — "Presidents in Crises" and "The Achilles Lauro Hijacking."
Harry Carey, long-time friend, said, "Mike was a historian — he talked about presidents and wrote about the situation room. How wonderful his writing was. He had a curiosity to recount places and people."
Bohn also wrote several articles for the Mount Vernon Gazette. While many of the articles were about the history of local places, his interests were varied and one of the last articles he wrote was about the Little Free Libraries that have been popping up around Mount Vernon.
Bohn also wrote about another of his passions — playing golf.
Ron Milner said, "Mike used to talk about the history of golf. He loved to research new topics. I met him the first year I was here. He played a lot. He was a wonderful man, smart and always interesting."
The Rev. Tuck Bowerfind, who officiated at the memorial service, gave Bohn a pass about not going to church.
"Mike wasn't a church-goer," said Bowerfind. "But it was not a measure of the person or his relationship to God. He didn't attend church but laid down his life for others. He had a concern that we should love one another and cared for people."
Erik Bohn, Bohn's youngest son, said, "Dad meant a lot to a lot of people. What a wonderful upbringing Carter and I had. There is probably not a more accomplished person that I've known."
Erik Bohn also said that his father didn't get along with his father and had an unhappy childhood. As a result, he wanted his children to have a better life.
"He desperately wanted my brother and I to have a better life," said Erik Bohn.
Carey said, "He loved his family and revered his boys."
Photo Gallery
Michael Bohn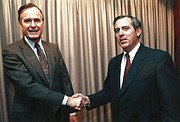 Click Photo for Flash
Mike Bohn met Elin, who was a stewardess with Pan Am, on a blind date after he moved to Washington, D.C. They dated for about a year before getting married.
Susi Belcher, Elin's sister, said, "When we met Mike, he was absolutely hysterical and we'd all just burst laughing."
Lisa Anderson Webber, another one of Elin's sisters, agreed and talked about how their children would all go visit the White House.
"Mike arranged for an inside tour with Donald Regan, Reagan's chief of staff. One time Vice President George W. Bush gave the kids jelly beans."
Steve Belcher, Susi's husband, said that he remembered that Mike Bohn stood in for President Reagan when they did training sessions. He also said that he can still be seen on the History Channel.
According to Elin Bohn, Mike Bohn was interviewed for a number of documentaries for BBC, the History Channel and the Discovery Channel.
Bowerfind said, "He resolved to live and work, and not focus on sickness. He even wanted to contact John McCain so that he could help other veterans."
Elin Bohn said, "Mike was exposed to Agent Orange during the Vietnam war. We, along with many others, were in the process of appealing to the VA to recognize that brain cancer can be caused by exposure to Agent Orange. At this time, brain cancer is not on the presumptive list of diseases. Veterans who have a condition that the VA has agreed is possibly related to exposure to the herbicide may be eligible for health care benefits and compensation.
"While we, fortunately, did not need the VA health care benefits, Mike still wanted to do what he could to get the VA to add brain cancer to the presumptive list for Agent Orange exposure. He also planned to write a piece to inform the public, in general, and especially Vietnam-era veterans and their families, about how veterans can learn about possible health problems related to their military service. As part of the research and preparation for this article, he had hoped to talk to John McCain, who has a type of brain cancer that is similar to what Mike had."
Memorial donations may be made to United Community Ministries at www.ucmagency.org.