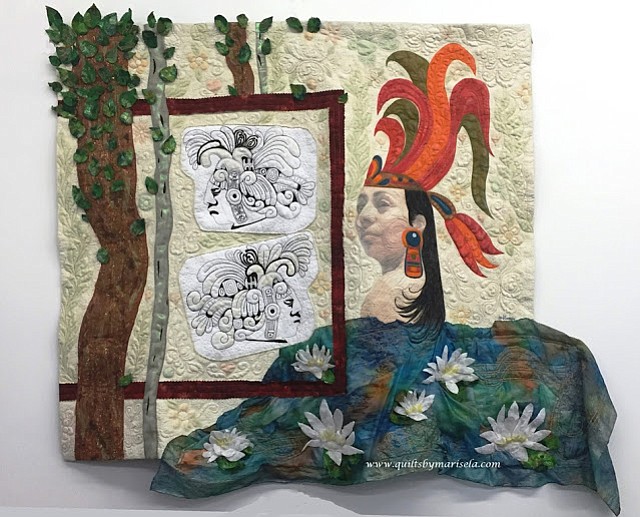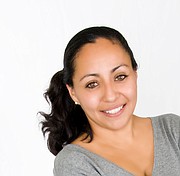 To See
Marisela Rumberg, fiber artist is at the Workhouse until July 8
Hours: Wed-Sat 11 a.m.-6 p.m.; Sun 12-5 p.m.
Workhouse Arts Center 9601 Ox Road, Lorton
Building 6 Gallery and Studio 605
It's the energy of the other artists that fiber artist Marisela Rumberg really appreciates as she works in her studio at the Workhouse Arts Center in Lorton. "It's a big inspiration for me," Rumberg said. "In the Workhouse, I can work and display my art at the same time."
Quilts are her specialty, and Rumberg likes the variety of ideas in one piece, similar to a collage. The different ideas in one piece "gives a voice to the art," she said.
Rumberg started her artistic ways in Mexico, where she was a journalist for a couple of years, and this evolved into her current interest in quilts. "I relate my works to my Mexican heritage," she said, and this includes the Mayan and Aztec Indian influence. "I have a big quilt on display of the Mayan Princess," she said. This is apparent in past quilts such as "Princess Nicte Ha," and "Frida Khalo."
She has worked with several artists on a quilt called the "Magic Towns of Mexico," where each artist does a square on a different town, and this quilt is traveling to shows. The towns she did are Metepec and Tulum, which are colorful 16x8" squares that are part of a big quilt that has been to several Mexican Embassies around the world, and will continue to be shown this summer.
She now lives in Fairfax with her husband and two daughters, and is a language interpreter at the Fairfax County Public Schools when she is not working at the Workhouse.
In November, she has been invited to enter the International Houston Festival. Last year, she entered a "'triptych," quilt called the "Tangled Garden," which is really three quilts that go together.
When she's not quilting in Lorton, she teaches several art courses and is certified in the Zentangle Method, which is "an empowering and uplifting experience that develops confidence and accomplishment, self-esteem, stress-reduction and well-being," said the description on her website.
Other quilt shows she has participated in include the Patchwork and Quilt Expo in Mexico, the Quilt and Patchwork Festival in Grammado, Brazil, The Festival of Quilts in Birmingham, England, Quilt Expo Beaujolais in France and at the International Quilt Festival in Suzdal, Russia.