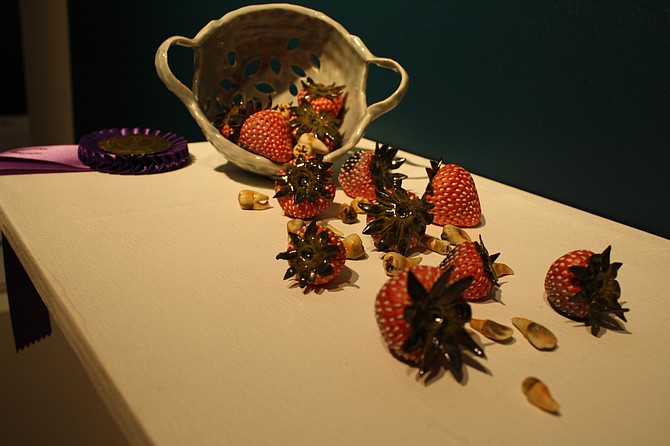 Lorton — The artists at the Lorton Workhouse Arts Center stayed a little late last Saturday for the Second Saturday art show, giving art enthusiasts a little longer to find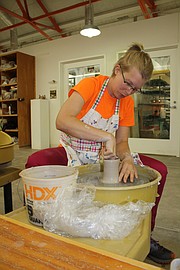 that perfect painting, and providing exposure to the galleries that are just celebrating their 10th year as a fixture in the Lorton community.
Ava Spece, president and CEO of the Workhouse Arts Foundation, Inc., noted the community aspect the arts brought to this community. "The arts and culture are a big part of that," she said. The art sales and classes at the center have generated $620,000 a year for the local economy. "The campus has been the catalyst for regional economic growth and development," Spece said, as she headed up to her office on the second floor of one of the former prison buildings Saturday evening.
The lights were on in the other buildings also, as artists talked with prospective customers and fellow artists. Featured artist for the evening was Marilyn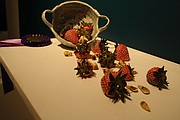 Harrington, a Leesburg resident that displayed scarfs she weaved with wool, silk and Tencel, a material that is made from trees. "I'm a weaver, if its woven, that's what I do," she said.
Katie and Ashley Thornton, sisters that recently moved to Lorton, went from building to building, checking out the sculptures, and paintings. They heard about the art event and were intrigued by the prison aspect of it. "We found it interesting that it was a jail," said Katie Thornton.
A portion of the Cross-County Trail was recently modified through the Workhouse grounds, and the restoration of a former prisoner baseball field is a project being taken on by the Workhouse. "It was for use by the prisoners," said Spece.
In one of the buildings, pottery wheels were turning as ceramic students learned to make cups and bowls. Fairfax resident Anna Hjelmroos has taken a few ceramics classes. "It's relaxing, very fun," she said. Her works don't just sit on a shelf either. "I do eat ice cream out of my bowls I made," she said.
In another building, a museum is coming together that has information and exhibits surrounding the suffragists imprisonment in the early 1900's, and former prisoner artwork is on display. Former prison guard Joe Rodriguez gave art descriptions as one of the docents, and Christine Zinger was dressed like Kate Heffelfinger, one of the women suffragists that was imprisoned in 1917 at the Occoquan Workhouse Prison. Zinger lives in one of the apartments that were created in the prison buildings.