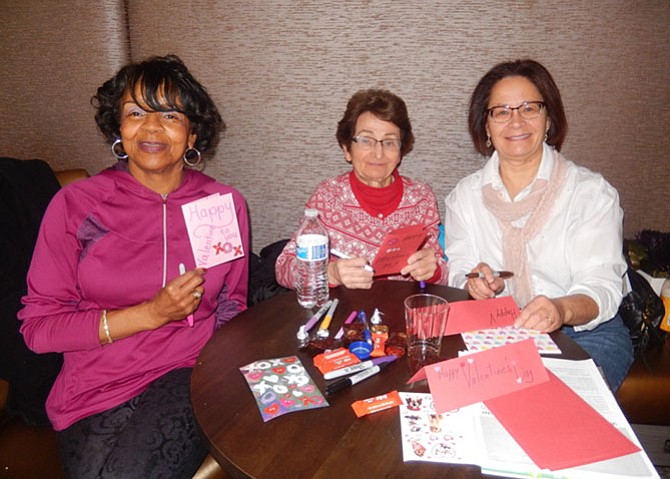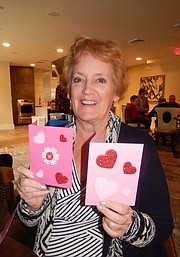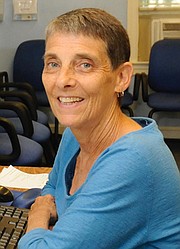 Brosnan Will Receive Volunteering Award
RSVP Northern Virginia will hold its annual volunteer recognition event on Wednesday, March 7, at noon, at Wolf Trap. The two-hour event is free and open to anyone 55 or older. Some 20 RSVP Northern Virginia volunteers, who each performed 100 or more hours of service in 2017, will receive the President's Volunteer Service Award.
Fairfax resident Shelley Brosnan volunteered the most of any area RSVP member in 2017, logging more than 540 service hours. The President's Volunteer Service Award recognizes American citizens and lawfully admitted, permanent residents of the United States who have achieved the required number of hours of service over a 12-month time period or cumulative hours over the course of a lifetime.
The Valentine's Day meet-and-greet at Overture Fair Ridge was more than just a social event for the attendees. It enabled them to learn about volunteer opportunities in Fairfax County; and while listening to the guest speakers, they created handmade valentines for members of the Vinson Hall Retirement Community in McLean.
Overture is a Fair Oaks apartment complex for people 62 and over. And hosting the Feb. 14 event there was RSVP (Retired Senior Volunteer Program), a partnership of Volunteer Fairfax, Volunteer Arlington and Volunteer Alexandria.
"We match people 55 or older with volunteer organizations in their communities, and then we send volunteers their way," explained Carly Hubicki, a volunteer specialist with RSVP. Those interested choose how, where and how often they want to serve, with commitments ranging from a few hours to 40 hours a week.
DESCRIPTIONS of many of the volunteer opportunities are on the organization's website, www.rsvpnova.org. After checking it out, said Hubicki, potential volunteers would come to an RSVP orientation and then fill out an application.
"They tell their experience, interests and skills, as well as the things they want to do," added RSVP volunteer Denise Mackie-Smith. "Then the volunteer coordinator interviews them, and they're matched up with various organizations that need help." At last week's meet-and-greet, she said, "Today, people will find out about the program and, hopefully, meet others they'd like to volunteer with."
One of the speakers seeking volunteers was Jessie Wilson, representing Insight Memory Care in Fairfax. "I'm specifically looking for volunteers for our early-stage, Reconnections program for people recently diagnosed with dementia," she said. "We need outside speakers to come and provide a special program about history, travel or a particular passion they have."
Doing so, said Wilson, would help the listeners become active and engaged. "The speakers could share photos from their vacation and talk about it or reminisce about life events, such as a wedding. That way, they'd be offering a different perspective from someone new."
Guests can come there any of three days a week, any time between 10 a.m. and 3 p.m. They could lead chair exercises, show people how to dance, sing songs or play musical instruments. "People who want to share whatever talents they have are welcome," said Wilson. "We use visual aids, and I'm happy to help put the program together."
INSIGHT is also flexible with scheduling. "Volunteers can come for an hour or more, depending on their availability," said Wilson. And for those attending the program, she said, "It's an opportunity for them to learn and give their opinions and feedback. They love meeting new people, interacting and socializing."
"It makes them feel like they can give back and keep their abilities as long as possible," she continued. "It doesn't focus on their limitations, and they're being productive with their day. It also gives their family members a break." To volunteer at Insight, contact her at jessica.wilson@insightmcc.org.
ALSO AT RSVP'S EVENT was Emily Thomas with Volunteer Solutions. She works for the county's Area Agency on Aging and has 3,000 volunteers. "We provide volunteers for various programs, such as Meals on Wheels, to 14 senior centers and to adult, day, health-care centers," she said. "We need volunteers to supervise social visiting, do grocery shopping, drive people to medical visits and check in on them."
Besides working with RSVP, Mackie-Smith also volunteers with New Hope Housing, which manages homeless shelters. She said her organization is always looking for volunteers to help with coat drives, read to children and help adults write resumés for jobs.
Holly Booker, with the nonprofit Junior Achievement, also made her pitch during the Valentine's Day event. She coordinates the in-classroom programs for Northern Virginia students in grades kindergarten through 12.
"We teach financial literacy, work readiness and entrepreneurship," she said. "All our programs are taught by volunteers, not teachers. The volunteers teach from a book, and no experience is necessary. As long as they can read, they can do it."
Patti Senft, Junior Achievement's manager of program engagement, said, "We need at least 18-25 volunteers a day because we need a minimum of 2,500 volunteers every school year. But we have a goal of 3,000." The organization runs Finance Park, at 4099 Pickett Road in Fairfax, near Woodson High and Frost Middle School, and serves 15,000 students a year.
"But we can't do this without our wonderful community of volunteers," said Senft. "It's a fantastic program, and we're happy to have people volunteer so that these kids are ready to take on challenges in a 21st-century, global economy. We've gotten a number of great volunteers from Volunteer Fairfax and RSVP."
For more information or to sign up for an orientation, go to www.rsvpnova.org, call 703-403-5360 or email rsvp@volunteerfairfax.org. An upcoming orientation is set for Thursday, March 22, from 11:30 a.m.-12:30 p.m., at Junior Achievement's Finance Park in Fairfax.