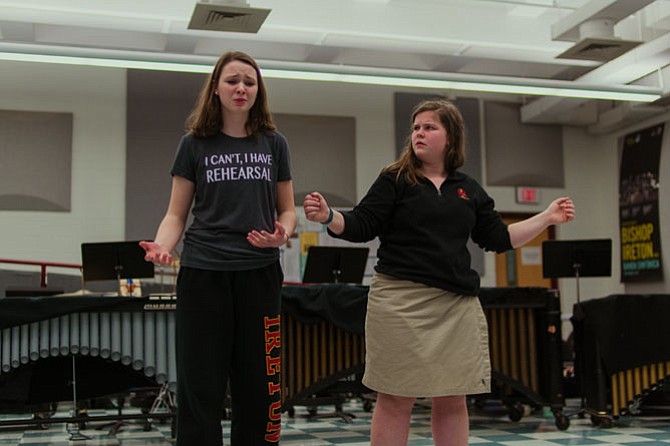 With a cast of 27 students, Bishop Ireton's theater department is presenting the musical comedy, "The Addams Family Musical," from March 9-17, at the school auditorium on Cambridge Road in Alexandria. The show is based upon the characters created by Charles Addams in his single-panel gag cartoons. It has music and lyrics by Andrew Lippa and is based on the book by Marshall Brickman and Rick Elice. The musical opened on Broadway in April 2010 with Nathan Lane as Gomez and Bebe Neuwirth as Morticia.
According to Joanna Henry, director of theater arts at Bishop Ireton, "It's a musical and it's loosely based on the cartoons. The character that drives the plot is Wednesday because she's the one who falls in love with a normal guy. She just wants her family to accept him and his family because they're this normal mid-Western family. She also wants them to accept her family because they're all a little bit off.
"It all takes place in one night when the Addams family hosts a dinner for the boyfriend's family, the Beinekes. But there's also the ensemble which is all ancestors of the Addams family and they come out of the crypt to help move the story along."
The cast and crew have been working since early December learning the music, and after Christmas started working on the blocking, acting and choreography. There's a crew of 65 students and about 15 adults who are working on every aspect of the show, including choreography, stage crafts, sound, set design, costumes and props.
Henry said they're going to be wearing iconic costumes from the Addams Family cartoons. "The Beinekes will look like normal Americans. The ancestors have all faded and distressed costuming, and every ancestor is a specific character, so we have characters from different eras. Make-up wise, they're pale. So, its heavy-duty makeup for the ancestors," said Henry.
As far as challenges, Henry said the music is tough. "But the students have constantly amazed us with how much hard work they put into it to learn it. The student choreographers have challenged the cast with the dancing, but the cast has stepped up. They're doing a fabulous job," she said.
What Henry hopes to accomplish with her direction is that the students will be different specific characters and not themselves. "I'd like them to be the characters, whether they're singing, speaking or dancing — that they communicate to the audience these different characters," she said.
As far as audience takeaways, Henry said: "I just want audiences to have a good time, to enjoy it and laugh and just have a fun night of musical theater. And see what these high school kids can do."
Music Director Christopher Tomasino said he was aiming to be true to the composer's original intent as well as the vocal arrangements. He describes the music as "all over the place, with some contemporary rock, a Spanish-Latin feeling, a bedtime lullaby, and a cake walk. It's almost like a Minstrel Show. They do a dance from the '50s and '60s and bring in the original 'Addams Family' TV Show theme," he said.
Kevin McNerney, 17, of Falls Church plays the role of Mal Beineke. "Mal is really a stiff and a family-oriented guy. He is really invested in his work. He doesn't take enough time for his wife and his kid. He's focused on the work aspect to support them. So, the play really explores a lot of his internal feelings about his marriage and how it went wrong, and why his family isn't as close as the Addams family," he said.
He said some of the challenges of this show were "not being super-out-there when all the characters are strange and weird. "Mal is a straight character so keeping a straight face is sometimes really difficult when everything around him is going wrong or all the other characters are totally crazy and really different," he said.
Libby York, 16, of Alexandria plays the role of Pugsley Addams. "Pugsley is just a little boy who is family-oriented, and he doesn't want things to change with his sister falling in love and moving on because he's so attached to his sister. He's scared of losing the dynamic that the two of them have.
"It was kind of challenging getting into the mind-set of playing a male character. Going into the audition, I loved the music that Pugsley has and his character, so one of the struggles was just being able to put myself out there, playing a male character and going outside the box. All of the characters are so flamboyant and quirky and there's nothing normal about the Addams family."
Gabby Baniqued, 18, of Fort Washington, Md., has a role in the ensemble and is the student choreographer. "So, in addition to just being a supporting role in the musical, I choreograph and teach most of the dance numbers in the musical, which requires a lot of preparation, patience and focus," she said. "It starts with getting familiar with the music and applying my past dance experience and applying moves that match the style of the Addams family. The Addams family pulls from a lot of different eras for dance, so it touches upon a lot of styles and movements from different times in history."
Emily Graham, 17, of Falls Church plays the role of the cave woman. "So, basically the cave woman just has a lot of fun in the Addams family. She gets awakened by Fester by dancing on the ancestor's graves. And Fester keeps the ancestors there to help him get Lucas and Wednesday together so they can eventually be happily married.
"The cave woman was originally a cave man and so it's really hard to sing my high voice part and still act very guttural, stone-age. So, it's hard to stay in character while also keeping the tone of the show and all the different songs."
Showtimes for Bishop Ireton High School's "The Addams Family Musical" are on 7:30 p.m. on Friday, March 9; Saturday, March 10; Friday, March 16; Saturday, March 17; and Sunday, March 11 at 2 p.m. The venue is the auditorium at Bishop Ireton High School, 201 Cambridge Road, Alexandria. Call 703-751-7606 or visit https://www.bishopireton.org.